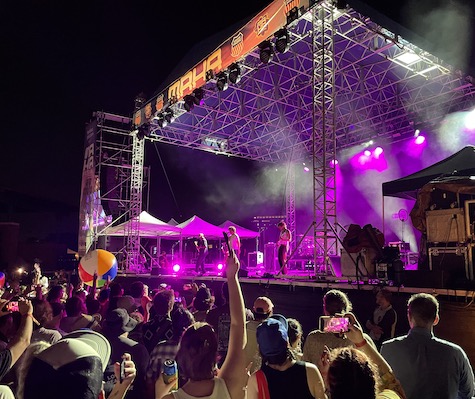 Turnstile Friday night at the 2023 Maha Music Festival.
by Tim McMahan, Lazy-i.com
The folks behind the Maha Music Festival released attendance numbers yesterday, showing a slight increase over last year's numbers. Last weekend, "more than 12,000 people helped Maha Festival say goodbye to its longtime home" at Aksarben Village.
That's a little over a 4% increase over 2023's Maha Festival attendance. The increase was due to a sizable jump in Friday night attendance – 4,900 people were on hand last Friday night when Turnstile headlined vs. 4,100 on Friday night last year for Car Seat Headrest. Saturday attendance of 7,100 for headliner Big Thief was a drop from the 7,400 in attendance on Saturday last year for Beach House.
These numbers include more than 800 volunteers. Maha also said a quarter of attendees traveled from out of state this year. As info, Maha drew 6,400 in 2021 for their one-day, Covid-shorted festival.
The festival is currently conducting an attendee survey, which you can take here as they begin to do it all over again for the two-day festival to be held down at the Riverfront next year, July 26 and 27, 2024.
. 0 0 0 .
OK, so what about this weekend?
Tonight it's all about Benson, where Benson First Friday (#BFF) will be in full effect. Maple Street will be alive with art as businesses throughout the district feature new openings by local artists. If you're out and about, drop in at Ming Toy Gallery, 6066 Maple St. (right next to Au Courant) where artist Michael Trenhaile opens his show entitled "Hoodlums, Thieves and Dead People & Other Events." He's brought his guitar and amp, so expect a couple tunes as well. The show runs from 6 to 9 p.m. tonight. See you there.
Also tonight, The Sydney in Benson celebrates BFF with a red hot show headlined by Bug Heaven with Lodgings and Breakers. $10, 9 p.m.
Saturday, get a sneak peak at Falconwood Park prior to Outlandia by attending GRRRL Camp, a one-day festival featuring 16 female-fronted alt rock and hip hop acts and performers including Boulder's The Velveteers, Omaha acts Ione and Ebba Rose, and Lincoln's Freakabout. All gender identifications are invited (that means dudes, too). This is kind of like FemmeFest from years gone by, only it's held at a camp grounds. It starts at 1 p.m. and tickets are $45. More info here.
Also tomorrow night (Saturday), The Sydney in Benson has Moon 17 with Jeff in Leather and XID. $10, 9 p.m.
And Saturday night at fabulous O'Leaver's, Las Cruxes is among the bands celebrating Silas Poppy's birthday. Joining them are Tiananmen Squares and The Content. 9 p.m., no cover listed.
And finally, it's Bandcamp Friday again. If you've been mulling over buying some new music (or some old music), Bandcamp is waiving their fees today so all proceeds will go to the artist. Among those celebrating is Simon Joyner, who is releasing a new vinyl-only LP, This Is Where the Ocean Begins, a collection of old singles reinterpreted by Fred Lonberg Holm, Michael Krassner and Joyner as a trio, limited to 230 copies, with money generated used to help cover travel costs for his fall tour. Check it out here.
And that's all I got. If I missed your show, put it in the comments section. Have a great weekend!
* * *
Read Tim McMahan's blog daily at Lazy-i.com — an online music magazine that includes feature interviews, reviews and news. The focus is on the national indie music scene with a special emphasis on the best original bands in the Omaha area. Copyright © 2023 Tim McMahan. All rights reserved.