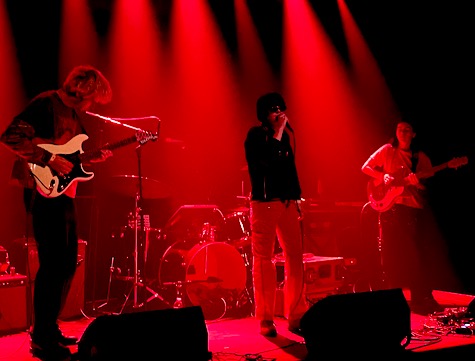 by Tim McMahan, Lazy-i.com
The April issue of The Reader is out and it includes a tongue-in-cheek RIYL column about Maha. The copy editor at The Reader didn't know RIYL meant Recommended If You Like and took it out of the headline, which I guess I get but isn't the purpose of headlines to grab people's attention? Anyway, in addition to being in print the column is online here. Fun!
Much in the same vein as that column, a friend of mine asked me about this Saturday's Snail Mail concert at Slowdown, specifically, who is Water from Your Eyes? It sounds like the perfect name for an emo band, but they're anything but emo. 
Recently signed to Matador Records, the Brooklyn duo consists of Rachel Brown and synther / guitarist Nate Amos (This is Lorelei) and is described as "experimental pop music that's pretty and violent, raw and indelible" which makes one think of art-infected ninjas bearing Sharpees. 
They're last album, Structure, was released on Wharf Cat in 2021, which apparently caught Matador's attention, who will release Everyone's Crushed May 26. 
I had the good fortune of being among the dozen people who caught Water from Your Eyes when they opened for Palm this past December at Reverb.
From the review of that show: 
The duo of vocalist Rachel Brown and guitarist Nate Amos were joined by a third person on guitar and were backed by some thumping rhythm tracks. If you'd fallen across the duo's past recordings, like 2019's Somebody Else's Song (Exploding in Sound Records) or even 2021's artier Structure (Wharf Cat) you would have been ill-prepared for the sound barrage of last night's set. 
At the heart of it was deep, blaring pre-recorded synths joined by Amos' acidic, feedback-drenched guitar that interlaced with Brown's untouched, unprocessed vocals that sounded like your little sister singing along to art-damaged post-punk. Harsh, throbbing sonic textures repeated trancelike with the second guitar providing counter riffs. 
The evening's highlight was a brittle interpretation of "Adeleine," a track from Somebody Else's Song, reinterpreted with rough synths and guitar, barely recognizable compared to the original, but a better fit in what turned out to be one of my favorite sets I've seen this year. 
They were, indeed, somewhat awesome and are worth the price of Saturday night's show by themselves.
Here's their latest single. Get tix while you can…
* * *
Read Tim McMahan's blog daily at Lazy-i.com — an online music magazine that includes feature interviews, reviews and news. The focus is on the national indie music scene with a special emphasis on the best original bands in the Omaha area. Copyright © 2023 Tim McMahan. All rights reserved.
No Comments »
No comments yet.
RSS feed for comments on this post. TrackBack URL
Leave a comment