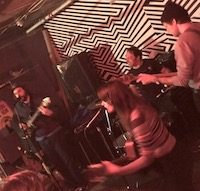 Sucettes at Pet Shop Gallery Dec. 9, 2017.
Welcome to Lazy-i, an online music magazine that includes feature interviews, reviews and news.
The focus is on the indie music scene. Yes, there's a special emphasis on the best original bands in the Omaha area, but Lazy-i also offers interviews, stories and reviews about national indie bands.
Most of the feature stories and columns in Lazy-i will have previously been published in The Reader, Omaha's monthly alternative newspaper.