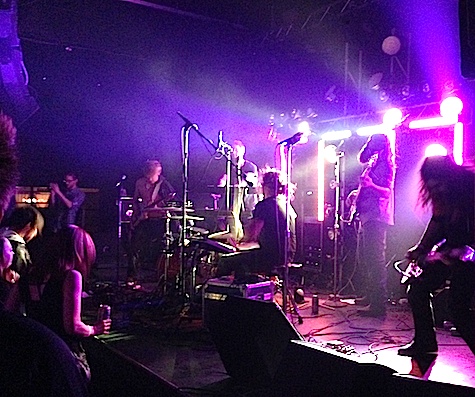 by Tim McMahan, Lazy-i.com
Hope you survived the holidays, but they're not over yet. The first round of "holiday shows" are this weekend (the second round will take place around Christmas).
Tonight at The Sydney in Benson, Lincoln's Universe Contest returns to their favorite Omaha haunt. They remind me of a midwestern version of Modest Mouse; they certainly have that vibe. This is a crowded bill that also includes the dynamic duo of Pagan Athletes and In Tongues (Robert Little, Jason Ludwick and Boz Hicks). Cupholder kicks things off at 9 p.m. $10.
Also tonight, I typically don't hype tribute bands or cover shows, but there's a special one going on at Reverb. Stigmata Martyr is a Bauhaus tribute band anchored by former Ritual Device members Randy Cotton and Mike Saklar with Benn Sieff of Bennie and the Gents fame. Joining them for what's being billed as a "mini set" is Omaha legend Stephen Sheehan (Digital Sex, The World, Between the Leaves) performing the music of Joy Division. Opening the gig is Misfits tribute act 138. 8:30 start time, $10. 
Then tomorrow night (Saturday), it's the big Criteria, Little Brazil, Healer show at The Waiting Room. I interviewed Criteria for a story that was published earlier this week (read it here). This one's always a blast and feels like a family reunion/wedding reception with all the scene legends in the crowd. 8 p.m., $10. 
Finally, Sunday night it's a Grapefruit Records in-store performance by Ryan Davis & the Roadhouse Blues Band. Davis is kind of a DIY legend, having operated Sophomore Lounge Records and co-founding Louisville's annual Cropped Out music festival. But the main thing is his music. The band's latest, Dancing on the Edge, is a collection of twangy indie-folk nuggets very reminiscent of Bill Callahan and Silver Jews. Pitchfork gave the album a massive 7.9 rating. Also playing this show are Sean Pratt and Nathan Ma Band. Grapefruit Records is located in the Old Market at 1125 Jackson St. Early 7 p.m. start, $10.
And that's all I got. If I missed your show, put it in the comments section. Have a great weekend!
* * *
Read Tim McMahan's blog daily at Lazy-i.com — an online music magazine that includes feature interviews, reviews and news. The focus is on the national indie music scene with a special emphasis on the best original bands in the Omaha area. Copyright © 2023 Tim McMahan. All rights reserved.