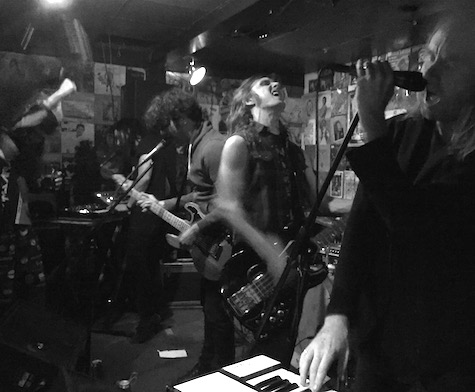 by Tim McMahan, Lazy-i.com
As far as I can tell, tonight's Scary Synthmas show at fabulous O'Leaver's is still happening despite forecasts of windchills of -22 at showtime. Believe me, no matter the outdoor temperature, it'll be red hot in The Club.
The five-band bill is scheduled to start at 8 p.m. with sets by synth-powered acts Specter Poetics, Jeff in Leather, Pagan Athletes, Divider, and finally, Digital Leather. Much like the Reverb show last week, this show could "sell out." Unfortunately, they're only taking the $10 entry fee at the door (no ticket sales), so go early or risk getting shut out as I did at last week's Filter Kings show. You have been warned.
Interestingly, Jack McLaughlin, a.k.a. Specter Poetics, is also playing a set tonight at The B. Bar, 4330 Leavenworth (next to Barrett's). DJ Tyrone Storm (a.k.a., the legendary Roger Lewis) is also performing. 8 p.m., no cover price listed.
And then it's Christmas. An early head's up about Monday's Universe Contest show at Reverb. They're actually selling tickets to this one, which, again, will very likely sell out. More on Monday. Have a great weekend and a Merry Christmas.
* * *
Read Tim McMahan's blog daily at Lazy-i.com — an online music magazine that includes feature interviews, reviews and news. The focus is on the national indie music scene with a special emphasis on the best original bands in the Omaha area. Copyright © 2022 Tim McMahan. All rights reserved.