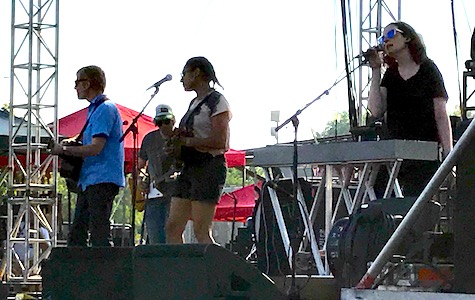 by Tim McMahan, Lazy-i.com
My bit of advice to you, the indie music fan: If you have a chance to go to a show when it's happening, you better go. It's no secret that, despite having more music venues than ever, fewer indie rock tours are coming through Omaha these days. If you don't go to one of them happening tonight, who knows when you'll get another chance.
Tonight's pretty loaded for shows. The best of the bunch is at The Waiting Room where The New Pornographers return. The band's latest, Continue as a Guest, is their Merge Records debut and includes contributions from A.C. Newman, Neko Case, Kathryn Calder, John Collins, Todd Fancey and Joe Seiders. New Pornos regular Dan Bejar only provides "co-writes" on this one, which means you won't be seeing Bejar on stage with the band tonight. 
Judging from Wednesday night's setlist for their Oklahoma City show, expect a healthy dose of the new album along with some non-Bejar chestnuts from the catalog going back to 2005's Twin Cinema.
Opening the show is dreamy NYC band Wild Pink, whose latest LP, ILYSM, was released last October on Royal Mountain. Really pretty stuff that reminds me of Nick Drake or early Iron & Wine. 8 p.m., $35.
Also tonight, Brooks Nielsen, former lead singer to So Cal indie band The Growlers, headlines tonight at The Slowdown. The Growlers was one of the surf bands caught up in the whole Burger Records controversy in 2020. Nielsen's solo work is more synthy but still has some sunset California touches. No opener listed. Starts at 8 p.m. in the big room. $35.
Meanwhile, down at The Sydney in Benson tonight (Friday), Specter Poetics headlines a show that also includes New Obsessions and Jeff in Leather. $10, 9 p.m. 
As for the rest of the weekend, well, like I said, get it in tonight because who knows when you'll get another chance to see a live indie music. Have a great weekend!
* * *
Read Tim McMahan's blog daily at Lazy-i.com — an online music magazine that includes feature interviews, reviews and news. The focus is on the national indie music scene with a special emphasis on the best original bands in the Omaha area. Copyright © 2023 Tim McMahan. All rights reserved.