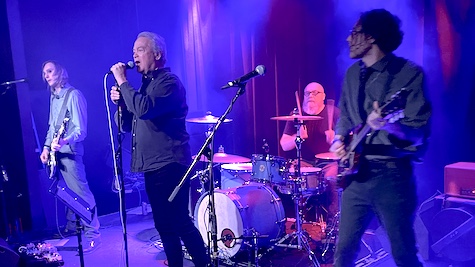 Stephen Sheehan with Stigmata Martyr at Reverb Lounge, Nov. 24, 2023.
by Tim McMahan, Lazy-i.com
Well, I missed the Criteria/Little Brazil show Saturday. And the Ryan Davis show at Grapefruit last night. The holidays being what they are, it just wasn't in the cards.
I did catch Stephen Sheehan performing with Stigmata Martyr Friday night at Reverb Lounge. This was the best Sheehan performance I've seen since his Digital Sex days, thanks to the energy coming off the stage as the band performed four songs by Joy Division. The setlist:
– Warsaw
– Day of the Lords
– Ceremony
– Transmission
The rarely heard "Warsaw" was the big surprise, as was the fact that Sheehan and the band, maybe wisely, bypassed other Joy Division staples like "Love Will Tear Us Apart" or "Disorder," which may have required Sheehan to attempt Ian Curtis' famous dance moves. Those songs also invite other comparisons, which aren't necessary as there is no replacing Ian's always slightly off-pitch bass-baritone delivery. Instead, Sheehan simply sang the songs as Sheehan, and the performance was better for it. 
If you missed it, you'll get another chance to see/hear Sheehan in action as he's among the performers taking part in the Damones' New Year's Eve Eve show at The Waiting Room Dec. 30. 
. 0 0 0 .
You say after a weekend of turkey that you're hankering for some accordion-powered Spanish-language Tex-Mex punk rock? Well Reverb Lounge has you covered as tonight, San Antonio's Piñata Protest headlines. Joining them are No/Mas, Amolador and Bolzen Beer Band. $18, 8 p.m. 
* * *
Read Tim McMahan's blog daily at Lazy-i.com — an online music magazine that includes feature interviews, reviews and news. The focus is on the national indie music scene with a special emphasis on the best original bands in the Omaha area. Copyright © 2023 Tim McMahan. All rights reserved.