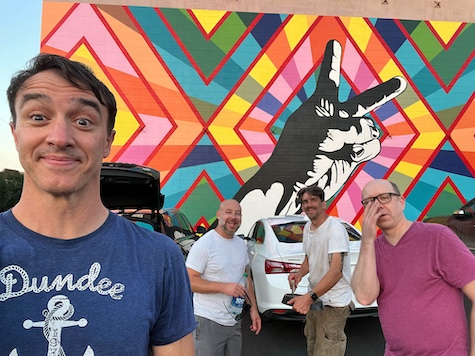 Criteria plays this Saturday night at The Waiting Room with Little Brazil and Healer.
by Tim McMahan, Lazy-i.com
This isn't so much an interview with Criteria as a "catching up with Criteria"-style chat that took place at frontman Stephen Pedersen's beautiful midtown home while his boys ran around the living room.
The occasion for the discussion is Criteria's annual holiday concert, which is this Saturday at The Waiting Room. Joining them as they do every year is Little Brazil, and opening the show is Dan Brennan's band Healer. The Criteria holiday rock show has become an Omaha indie-rock tradition that dates back years — sometimes it happens around Christmas or New Year's, more often lately it happens on Thanksgiving weekend. 
It's also one of the only shows Criteria plays these days. The band only performs in public once or twice a year (They played at Outlandia festival this summer). This year marks the 20th anniversary of the band's 2003 seminal album, En Garde, released during Saddle Creek Record's heyday, when bands like Bright Eyes, The Faint and Cursive ruled the indie world and fans whispered that Omaha could become the "next Seattle." We can all laugh about it now…
If you've heard Criteria's music (and if you're still reading this, you no doubt have), you know part of the attraction is Pedersen's uncanny, acrobatic vocals. They go up-up-up, above everything else, a fragment or dagger that counters  his and guitarist Aaron Druery's most-righteous riffage and the thunderous rhythms from drummer Mike Sweeney and bass player A.J. Mogis. His vocals are bright and effusive, going places few male vocalists would dare go. 
Twenty years ago, scaling such heights was rather matter-of-fact for Mr. Pedersen, but now that he has entered his late 40 — knocking on the door of the big 5-0 — and only playing out twice a year, how does this lion in winter keep hitting those blessed high notes?
"I go downstairs in the practice space, put in earbuds, turn on the PA, play the guitar and try to push out the same amount of air," Pedersen said. "And I also do cardio. I run three times a week and do push ups and pull ups."
He nods when asked if he's lost anything off the top end. "It's not that it's high and angular; it's that when we play I sing a lot," he said. "I'm constantly pushing air. A big part is just figuring out the breathing so you don't get winded. And I drink a ton of water."
As the conversation continues, members of Criteria show up one at a time and take a seat in the living room, arriving for the band's scheduled practice, which I'm interrupting. Our topic of discussion — the new songs. Criteria will play two or three new ones Saturday night. In the band's early days, Pedersen's lyrics were meta playthings that focused on the band's struggles to break through to the next level while the inevitable responsibilities of adulthood knocked on their doors. Or, as the opening lines of "Prevent the World" from 2005's When We Break, go:
I'm stuck in a basement world, where even if I tried
To make rock my living, it wouldn't coincide
So how will I reconcile six years of my life with
The rational urges?
These days Pedersen's rational urges more likely involve spending time with his lovely family and focusing on his career as a corporate lawyer. And as such, the nature of his songs' lyrics have shifted to much more adult matters.
"A lot of the new songs are about people in our extended social circles getting divorced," Pedersen said. "Something happened during the pandemic, and the social reverberations in the home tested a lot of marriages. These new songs are very abstract. I'm not telling anyone's story, but (I'm singing about) the concepts surrounding communication and misunderstanding and losing the fire in the belly for someone."
With that, Pedersen turned to the rest of the band and asked what they think about the new songs.
"They're a little more stoner rocker," says Druery.
"That's just because they're in a lower tune," adds Mogis.
Regardless, the band plans to enter the studio soon to record the tracks. Could an EP be on the horizon? Stay tuned. In the meantime, you'll be able to hear these new ballads of marital woe Saturday night at The Waiting Room. Healer kicks things off at 8 p.m. followed by Little Brazil. Just $10. See you there!
. 0 0 0 .
Tonight grab your pre-holiday cheer at Reverb Lounge when NYC-based Hotline TNT headlines. The band is the project of Minnosota songwriter Will Anderson (a.k.a. Flip Sandy, according to Wiki), previously of the Canadian band Weed. Anderson is the sole permenant member of HTNT, joined by a rotating backing band.
Their latest, Cartwheel, was released earlier this month by Third Man Records and received the coveted "best new music" designation from Pitchfork, which gave the album a huge 8.4 rating. It is pretty good, combining the dirty early '90s sounds of Teenage Fanclub and Dinosaur Jr., rife with overblown guitars that often overpower central melodies. It's a dense forest of noise for sure.
This is another massive four-band bill, with The Dirts, Western Haikus and Paid to Smile. It all starts at 8 p.m. $18.
* * *
Read Tim McMahan's blog daily at Lazy-i.com — an online music magazine that includes feature interviews, reviews and news. The focus is on the national indie music scene with a special emphasis on the best original bands in the Omaha area. Copyright © 2023 Tim McMahan. All rights reserved.