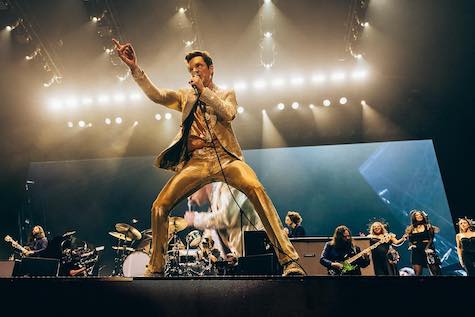 by Tim McMahan, Lazy-i.com
If you're wondering what those searchlights are all about downtown, tonight is the big Grand Opening of Steelhouse Omaha, 1100 Dodge St., featuring alt rock band The Killers. The concert literally sold out in minutes and I've yet to talk to anyone who was able to buy a ticket. 
That said, I'll be at Steelhouse tonight, courtesy of the band's publicist (if all goes well at Will Call). No photo pass, so something tells me we're going to see some sort of "no photography" policy tonight as the publicist said he'll provide photos for use with the review after the fact. Still, I'll try to capture the evening as best I can with my iPhone.
I interviewed Omaha Performing Arts President Joan Squires and Erika Hansen, who is responsible for booking Steelhouse, for an article that appears in this month's issue of The Reader. That story, which is online here, covers booking policies, including the decision to use Live Nation and Ticketmaster as exclusive booking and ticket agents. It also addressed The Killers ticket sales situation and lots of other stuff. I've also posted the article at the end of this post (captured for posterity's sake).
As a fan of modern indie music, I'm keeping my fingers crossed Steelhouse will book at least one show a month that will coax me into buying a ticket. Two shows a month would be gravy. But I'm not naive. I know that indie music is a niche genre, and while it's wildly popular along the coasts and in large cities, I'm not so sure how popular it is in Omaha these days. Instead of Book It and They Will Come, the story's headline should have been Book Acts that will Bring Them In.
I thought, being a non-profit, that Steelhouse and O-pa could take more risks on acts that are breaking through in other parts of the country — really introducing them to the Omaha area — and that profitability would come second to cultural enrichment. We're talking bands that would draw 300 instead of 3,000. Squires added some clarification:
"We have to raise money every year as a nonprofit organization so I don't take that as a given that we don't still have to watch our bottom line just like everybody else," she said. "We do have a responsibility to make sure we are being fiscally responsible. We want to make (Steelhouse) the right experience and the right fit. Those bands would not be a great fit for Steelhouse because you've got a small band and a small audience and you sit in a space that could have 3,000 people. It is not the kind of scene you want for either the artist or the audience." 
Let's face it, no one want to play in front of a mostly empty auditorium.
Hansen did go on to say that the venue is flexible and there are adjustments that can be made for certain acts. For example, the upcoming Elvis Costello concert will be a seated event with chairs and a capacity of 1,500 total. 
"3,000 isn't always a success measure," Hansen said. "It might be a band that would be a thousand and that's great and that's a success. So the capacity of the venue is not a measurement of success."
Both Squires and Hansen pointed to the future. Although many of the shows currently scheduled for Steelhouse cater to an old(er) crowd, both said those shows don't represent what will eventually be booked at Steelhouse. Hansen said, essentially, what 'til you see what they have booked for this fall. Their October already is mostly booked.
If you want to check out Steelhouse, the venue is hosting a free Open House on Sunday. It will include tours and a performance by the Central High School Jazz Band, Nebraska All-Star Rock & Roll Band, Omaha Girls Rock, Salem Baptist Church Choir and Enjoli & Timeless. For more info about this and other community events, as well as the latest concert lineup, go to steelhouseomaha.com.
. 0 0 0 .
OK, what else is going on this weekend?
Tonight over at art-space Project Project, 1818 Vinton St., it's Noisefest, featuring 20 "local and touring noise musicians," including from Omaha: Lonnie Methe, Dereck Higgins, Alex Jacobsen, Cole Kempke, Smith & Jensen, Bovinae, and Quiz The Machine Elf. I don't know most of those acts, but you might. The full list of performers is here. This free show starts at 5 p.m. 
Meanwhile, downtown at The Slowdown tonight, Omaha rockers Garst is hosting its album release show with punk super-group Bad Bad Men and BB Sledge. 8 p.m., $12.
Tomorrow night (Saturday), Matt Whipkey is playing two shows at The Jewell in celebration of the release of his new album Gummi Soul: Another Rubber, his reimagining of The Beatles' Rubber Soul album. The performance will include a reunion of Whipkey's band The Movies and special guests including the incomparable Stephen Sheehan of Digital Sex and The World fame, and newcomer Kristen Buell. Expect a mix of the Beatles songs and Movies chestnuts. Two shows: 6:30 and 8:30; $15.
That's all I got. If I missed your show, put it in the comments section. Have a great weekend.
Now, here's the Steelhouse article. It first appeared in the May issue of The Reader.
Book It and They Will Come
With Its Opening May 12, Steelhouse Hopes to Put Omaha Back on the Tour Map
By Tim McMahan
Everything about the new Steelhouse Omaha music venue, operated by Omaha Performing Arts (O-pa), will be state of the art — the lights, the sound, the overall experience. The 3,000-capacity downtown venue, which is designed for standing concerts (mostly, there are also balcony seats), will celebrate its opening night May 12 with a performance by alt-rock band The Killers, a show that, despite its $75-plus ticket price, sold out in minutes.
The quick sellout proves more important than state-of-the-art facilities is booking quality acts. Last January, O-pa President Joan Squires was interviewed by local media saying one of the project's motivations was to attract young patrons, specifically between the ages 18 and 45. "The entire venue is going to be an experience that will really help this city attract people this age," she was quoted as saying.
I was a little bummed. After all, I'm in my mid-50s, well outside that target range. I envisioned a constant stream of TikTok-style pop acts playing in front of a huge, squirming crowd of squeaky-clean youngsters, all holding up cell phones for one giant Instagram moment.
However, after a few weeks of Steelhouse show announcements, it turns out I might be at the lower end of the target age. Among the acts announced so far: '90s alt-rock legends Counting Crows, hair-metal bands W.A.S.P and Cinderella's Tom Keifer, '70s funk icons Parliament Funkadelic, 68-year-old singer/songwriter Elvis Costello, and The Flaming Lips performing an album released more than 20 years ago. In fact, all the above performers' heydays were more than 20 years ago.
Oh, it's not all legacy acts. Steelhouse is also hosting "fresh" hip-hop performer $not (pronounced Snot), Japanese novelty Babymetal and indie darlings Fleet Foxes, whose breakthrough debut was released 15 years ago, but that's it for new-ish artists. So, what exactly is the venue's booking strategy? Squires and Erika Hansen, director of booking for Steelhouse, said these early bookings are just that: early bookings.
"We're just starting, Tim," Squires said. "We're certainly going to continue to move in a younger direction. This just happens to be who's got opportunities to come to Steelhouse right now."
Hansen, 48, who hails from Sioux City and has been booking gigs for 20 years, agreed, saying booking summer months was a challenge, because many acts had already been booked for festivals and outdoor gigs. "Not that this lineup is anything to be down about," she said, "but it is a different type of crowd that we're probably looking at for the first few months, and then we're really going to start to get into the diversity that we've been talking about. If I showed you everyone who's holding dates at Steelhouse, it's a much different look than what you're seeing right now on sale."
Working with Live Nation
To power booking efforts, Steelhouse via O-pa signed an exclusive contract with Live Nation, the country's largest concert promoter. "We felt they could work with us to ensure we get bands as they route them across the country," Squires said, pointing out Omaha falls in the gap between Denver, Chicago, Kansas City and Minneapolis.
Headquartered out of Beverly Hills, the publicly traded company boasts "bringing 40,000 shows and 100-plus festivals to life" per year and works with just about every successful pop artist, from Alice Cooper to the Zac Brown Band.
Hansen said she's in contact with Live Nation multiple times a day. "They definitely will suggest artists they know are touring that they think might be a good fit for Omaha and will work with the venue space," she said. "It's a two-way street, though. We definitely have suggested to them, 'Hey, can you check out this artist or can you look for more artists that are within this genre and see who's out there?'"
Steelhouse's real goal isn't putting on shows that target a specific age group. "(Steelhouse) was built with philanthropic dollars and really is open to everybody," Squires said. "The target is to attract the bands that have been missing our city because there was no venue of this size."
"We are absolutely looking at artists that have never played Omaha before or that maybe have played much smaller venues in the market and are now getting to the size where they could fill a venue like Steelhouse," Hansen added. "I think the purpose is really to add to the music scene in general in Omaha. We want Omaha to be a destination for artists so that all of the agents looking at tour stops think of Omaha as a hot music scene."
Building awareness is one of the challenges. Squires said Hansen and Live Nation have been busy telling agents and artists that there's a new kid in town. "Part of it is just getting the word out," she said. "And the more we book, the more we'll book."
What about Indie Music?
As an indie music fan, I had to ask if the venue's 3,000 capacity will prevent booking important up-and-coming indie artists who draw fewer than 1,000. Squires said the space may not be appropriate for those shows, which would be a better fit for small O-pa-operated venues like the Holland Music Club. However, Hansen said Steelhouse is flexible and has options, including the use of retractable risers.
"We're playing with the space," Hansen said. "I think we will be able to do some smaller shows in there and make it feel full and really cool for the artist and the fan." But, "we're not wanting to step on anyone else, either. If some other venue in Omaha has a great opportunity to book a show and it's a better fit for their room, by all means."
What about local acts? I suggested local bands could be great openers for larger touring acts. O-pa has done this in the past. Local singer/songwriter Matt Whipkey, for example, opened for the band America at the Holland Center last year. Hansen said artists typically decide who will open their shows, not the promoter, but "if there's an opportunity, we'll absolutely do that."
Ticketmaster 'the right choice'
I couldn't let them go without talking about Ticketmaster, a subsidiary of Live Nation that has been embroiled in controversy concerning ticket-selling practices. Just ask Taylor Swift, who appears to be fighting a one-woman battle against the company. Squires said it was O-pa's decision to use Ticketmaster because "we felt Ticketmaster was the right choice for the marketing, for the fans, for the experience."
The almost immediate sellout of The Killers concert left many fans venting their frustrations on social media. Squires said they expected a very quick sellout because The Killers play 20,000-capacity arenas. "We were sorry people were frustrated," she said. "It was a demand question. We just hope people will stay with us to come back and try something else."
"I think sometimes Ticketmaster takes kind of a rap for ticketing issues in general," Hansen said. "Demand is always going to be a problem if you have an artist that has a demand that's greater than the number of tickets available. That's not necessarily a Ticketmaster thing."
Squires and Hansen were both eager to hear my list of bands I'd like to see play Steelhouse, a list that includes Lana Del Rey, Yo La Tengo, Shame, Gorillaz, Boygenius, Yeah Yeah Yeahs, Alex G, M83, The Strokes, Beck, Angel Olsen, Wet Leg, Everything But the Girl, Ladytron and Nation of Language — all touring acts that as of now do not have Omaha as a stop. 
They promised to share the list with Live Nation. They're looking for your suggestions, too. You can provide them by following Steelhouse on social media, the best place to see the latest announcements.
"This is going to evolve," Squires said of Steelhouse Omaha's bookings. "We're just getting open. We're going to continue to reinvent and reevaluate. It's going to keep moving."
Over The Edge is a monthly column by Reader senior contributing writer Tim McMahan focused on culture, society, music, the media and the arts. Email Tim at tim.mcmahan@gmail.com.
* * *
Read Tim McMahan's blog daily at Lazy-i.com — an online music magazine that includes feature interviews, reviews and news. The focus is on the national indie music scene with a special emphasis on the best original bands in the Omaha area. Copyright © 2023 Tim McMahan. All rights reserved.
No Comments »
No comments yet.
RSS feed for comments on this post. TrackBack URL
Leave a comment