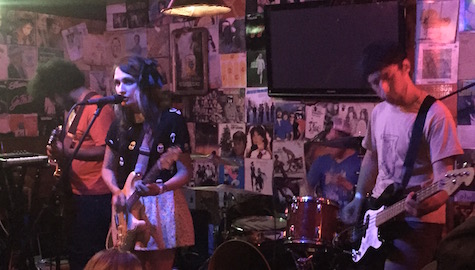 by Tim McMahan, Lazy-i.com
Speedy Ortiz music is a rough-and-tumble ride through indie and punk landscapes, contextualized by strange, unpredictable guitar parts, familiar rhythms and front woman Sadie Dupuis' intricate, confounded and always clever lyrics about, well, living.
Take perhaps Speedy Ortiz's most popular song, the waltzing anthem "No Below" from the recently reissued 2013 breakthrough album Major Arcana, where Dupuis sings of youth and isolation and having one friend who, in the lowest times, is looking out for you. Or at least that's how I interpreted the song over the years (and let's face it, I've never been very good at interpretation):
A decade later and a new album — Rabbit Rabbit — and things have only gotten more complicated. Her friendships seem to have evolved on the waltzing anthem "Plus One," where Dupuis sings:
Songs are for telling and records for show
Stole my split necklace half to see where I'd help you go
The other piece, it doesn't fit where I hoped
Intricate, confounded and always clever, that's Speedy Ortiz, who is playing Friday night at The Slowdown. It's also Dupuis, who's crafted a successful career both with this band and as Sad 13, her solo project. She's come through Omaha in one form or another throughout her career, playing house shows (at the world famous West Wing) as well as DIY venues (Milk Run in 2016 with — get this — Mannequin Pussy and Vegabon) and regular venues, too.
I caught up with Dupuis recently for a brief interview in support of this Slowdown show and told her she once made fun of me online when I said I was afraid to go to a house show at my age — places where i'm often mistaken for a cop or an angry father.
"I do feel like house shows should be for everyone," she said. "I'm getting close to 40, I'm not a teenager anymore. DIY shows, especially as the infrastructure for indie venues has shrunk, have become more important. We had a couple shows on this tour that were more in the DIY realm — like art spaces — and really appreciated it.
"We played The Church, which is a basement of a Presbyterian church, and (the venue) gets the kids and people in their 70s to come to all their shows, and that's important — to foster that generational connection. We're all music fans coming from different parts of our lives, but coming to the same place."
Fine Sadie, I'll no longer turn my back on house shows. (If you see someone who looks like a cop, come say hello.)
Spanning generations was one theme to our brief discussion. i mentioned that the band UN-T.I.L. will be opening for her Friday night, an all-woman, punk power trio that's the product of Omaha Girls Rock!. Dupuis was thrilled. Over the years, she and her band have been strong supporters of girl rock camps, even donating tour proceeds in the past to Girls Rock programs.
"I went to a gender-inclusive summer camp, and I wouldn't be doing what I'm doing had I not gone to that camp," Dupuis said. "I went back as an instructor. We meet girl bands that come out of those programs, and it's always really cool . We've played with ex camper bands, and it's such a positive ethos that comes out of those camps that injects needed love and support into the indie, punk and hardcore scenes."
No doubt. BTW, if you haven't seen UN-T.I.L., get to the show on time Friday night — you're in for a treat.
Final question: Sadie underwent the dreaded 10 Questions treatment back in 2016 in support of that Milk Run show and was asked (as in all 10Q interviews) if she could earn a living with her music. She said she could but, "I'm not really raking it in."
Seven years later, things sound like they haven't changed much.
"We took many years off the touring, and I did a lot of random gigs," she said. "We've been touring for a few months. But when (the tour ends) I'll be back to different freelance projects – writing, production gigs.
"This is part of why DIY and art spaces are more crucial than ever. It's been hard for independent venues. For the style of music we play, we've been warned that rooms are not the same. I came with expectations that live music changed somewhat in the post pandemic and ongoing pandemic world. It doesn't change our joy to play to people who do come out and meet us. it's a different feeling and that's fine for me personally. Some of my favorite shows were played in front of 10 people."
Make sure Sadie and her band aren't playing in front of just 10 people by coming out to The Slowdown Friday night. Joining them are tourmates Space Moth and the aforementioned UN-T.I.L. This front room show starts at 8 p.m. and tickets are $20. See you there…
* * *
Read Tim McMahan's blog daily at Lazy-i.com — an online music magazine that includes feature interviews, reviews and news. The focus is on the national indie music scene with a special emphasis on the best original bands in the Omaha area. Copyright © 2023 Tim McMahan. All rights reserved.