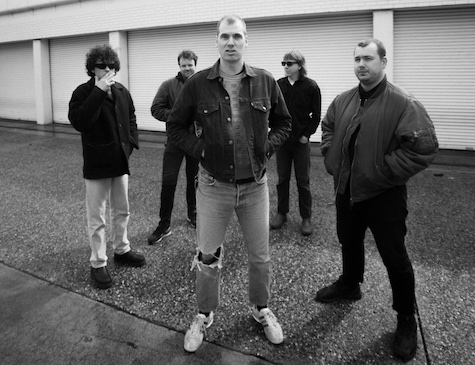 Civic plays tonight at Slowdown, Jr.
by Tim McMahan,Lazy-i.com
Another busy weekend for shows. Here's where you need to be if you're ready to rock…
Tonight at Slowdown Jr. Melbourne proto-punk band Civic headlines. Their latest, Taken by Force, was release this past February by ATO Records. Big riffs, precise guitar interplay, snarling Stooges vibe, it's been awhile since I've seen a new touring act just straight-out rock, and these guys bring the fire. Also on the bill is our own power-rock trio, Bad Bad Men, which (in my humble opinion) is a perfect fit for this gig. Bliss opens the show at 8 p.m. $20, front room so get tix if you can.
Competing directly with this Civic show is Bad Religion at The Admiral. Greg Graffin, and the boys have been doing it since the early '80s, defining the Epitaph sound and paving the way for acts like Green Day and Offspring, who "acquired" their sound and ran with it. No doubt this show will steal much of Civic's ticket-buying thunder (Imagine if both bands were on the same bill…). Adding to the show's fire power at The Admiral is Dwarves, who bring their own unique punk energy. Speed of Light opens at 7:30. $45.
Your Saturday activities start early with Farnam Fest in the Blackstone District, or should I say pre-Farnam Fest activities as Ground Floor Guitar is hosting its first in-store performance ramping up to Farnam Fest. Omaha singer/songwriter/sensation Mike Schlesinger performs in the shop followed by the C&W stomping of Lightning Stills (Craig Fort and his band of punk cowboys). This gig begins at 2 p.m. and is free, though you may want to buy a guitar while you're in the shop, which is located at 4009 Farnam Street, just west of Noli's. 
Then comes Farnam Fest '23 kicking off at 4 p.m. I'm not sure where they're going to have the stage set up this year, though it's probably somewhere along 40th and Farnam. The line-up is pretty solid with some of Omaha's best:
– Bad Self Portraits
– David Nance Band
– M34N STR33T
– The Real Zebos
– BIB
$10 at the door.
David Nance is one busy dude, because he's also playing at Pageturners Saturday night with DJ Trolli and The Mighty Vitamins. 8 p.m., no cover but $10 donation is suggested. I'm now told this show has been cancelled (see comments).
Nance and friends will also be backing Rosali at Grapefruit Records Saturday night. The singer/songwriter (who just played at Pageturners herself a couple weeks ago) is playing in the Old Market record store with Chicago indie singer/songwriter Fran, a.k.a. Maria Jacobson, whose latest, Leaving (2023, Fire Talk) is a real beaut.  7 p.m., $10.
And that's all I got. If I missed your show, put it in the comments section. Have a great weekend.
* * *
Read Tim McMahan's blog daily at Lazy-i.com — an online music magazine that includes feature interviews, reviews and news. The focus is on the national indie music scene with a special emphasis on the best original bands in the Omaha area. Copyright © 2023 Tim McMahan. All rights reserved.
1 Comment »
The Pageturners show is no longer happening, and Rosali will be playing with the full backing band at Grapefruit!

Comment by myke — October 13, 2023 @ 11:17 am
RSS feed for comments on this post. TrackBack URL
Leave a comment