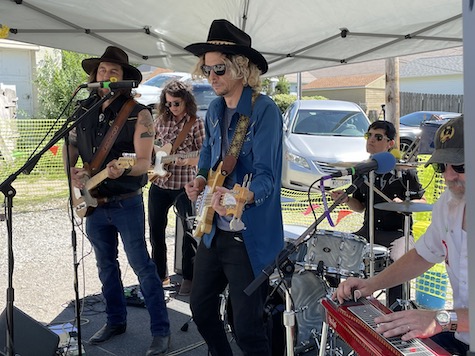 by Tim McMahan, Lazy-i.com
Man, I miss going to rock shows. The well has definitely been dry the past few weeks/months when it comes to touring indie bands. I haven't written a live review since the Vera Devorah show at Reverb the day after Christmas.
And a glance at our local venues' calendars shows slim pickings for the next few months. That said, it's not just an Omaha thing. I spent some time last night looking at other regional show calendars and things are tough all over.
RecordBar, a 300-capacity venue in Kansas City that counts Mammoth among its bookers is hosting School of Rock showcases all weekend, and is booking the same combination of tribute/cover bands and gloopy roots/funk and local acts through next month. They're also getting the Unsane/Violenteer, Rural Alberta Advantage, Pedro the Lion and Zepparella/Bad Bad Men shows in the coming months that we're getting but also have Kevin Morby, King Tuff and The Casket Lottery coming through.
The Bottleneck in Lawrence used to be a prime indie rock club and still hosts an occasional show. They've only got eight dates booked in February and the only upcoming indie show is The Lemon Twigs in mid-March (but they also have Kevin Morby in April).
What about 7th St Entry in Minneapolis? Their website calendar combines 7th St. with Turf Club, Fine Line and Fitzgerald Theater. They've got Semisonic over the next few days, but their February is the same collection of cover/tribute acts and emo-night-type events. However, their February is a little better, with Samia, The Beths, Jerry Harrison/Adrian Belew and Viagra Boys on their calendar.
The point is, there's not a lot of bands touring in January and February, and with temps below-zero this weekend who can blame them? Many of the few higher-end indie acts on tour through April have Omaha as a tour stop. There are, obviously, exceptions.
. 0 0 0 .
Alright, what about this weekend here in River City?
Tonight at Slowdown Jr. local country howlers Lightning Stills opens for so-called "newgrass" band Arkansauce. $15, 8 p.m.
Meanwhile, tonight at The Sydney Jeremy Mercy & The Rapture Orphans headlines a show with Box Eats Miah and J.P. Omaha. $10, 8 p.m.
Tomorrow night (Saturday), Ragged Company opens for Fox and Orion Walsh at The Slowdown.
And then Sunday night pop-punk band New Found Glory headlines on The Slowdown's big stage. Leanna Firestone opens at 8 p.m. $38.
And that's all I got. If I missed your show, put it in the comments section. Have a great weekend.
* * *
Read Tim McMahan's blog daily at Lazy-i.com — an online music magazine that includes feature interviews, reviews and news. The focus is on the national indie music scene with a special emphasis on the best original bands in the Omaha area. Copyright © 2023 Tim McMahan. All rights reserved.