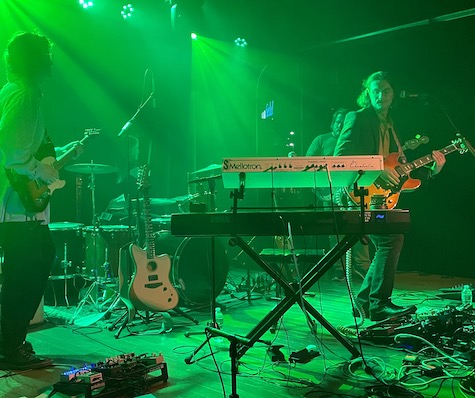 Mitch Gettman at The Slowdown, Sept. 16, 2023.
by Tim McMahan, Lazy-i.com
Mitch Gettman and his band played most (but not all) of his new double-CD Tilde to a crowd of less than 100 Saturday night at The Slowdown. He kicked off the set with Track 1 from CD 1, "Someday," and then went right into Track 2, "PS," and so on, but eventually changed it up. In the end, he didn't play it all but did play all my favorites from the 90-minute audio tome.
Backed by a rhythm section of bassist Kevin Sullivan and drummer Adam Stoltenberg (who also co-produced the album), along with a guitarist whose name I didn't catch, Gettman filled out the dense sound heard on the record playing either keyboards or guitar (using a repeater pedal to give him even more coverage). He seemed at times to be a reluctant frontman, as if he didn't want to get in the way of his own songs. This makes for an enigmatic performance, with Gettman looking focused, earnest, not wanting to miss a single note (which he didn't). 
I guess you'd call it a tight performance. He did loosen up on his R&B send-up, "Adore You," which included some righteous rapping and a rhythm that got the crowd moving. Not one of my favorites from the album, it translated much better live than on record, likely because Gettman knew he has to really throw himself into it to make it work. 
That was the case with most of the guitar-driven numbers (versus the more retrained keyboard tunes), including the night's centerpiece, a gorgeous rendition of "Empire," my favorite track from the album, which Gettman held for his encore. I wish he would have instead launched his set with it. The other big standout was an extended version of "Goldie," a track that, if this album was released by a label, would be the primary single despite its nearly 12 minute run time. 
. 0 0 0 .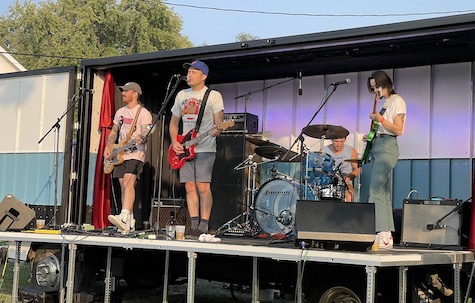 Uh Oh on the Omaha Mobile Stage at teh Little Bo Backyard Bash, Sept. 16, 2023.
Earlier in the day I swung by the Little Bo Backyard Bash, the third-annual "festival" held in the parking lot across the street from the old Bohemian Cafe on 13th St. If the intent was to get people to rediscover this new, vital district, it worked, for me at least. I haven't been down along this street in years and was pleasantly surprised by the cool, new little shops and restaurants (including Fizzy's, a hip diner/bar that took over part of the Bohemian Cafe). 
In addition to the usual art and beer tents, the Omaha Mobile Stage was on hand to host the music. Uh Oh played a full set in front of an intimate gathering of neighbors, families and their pets (lots of dogs!).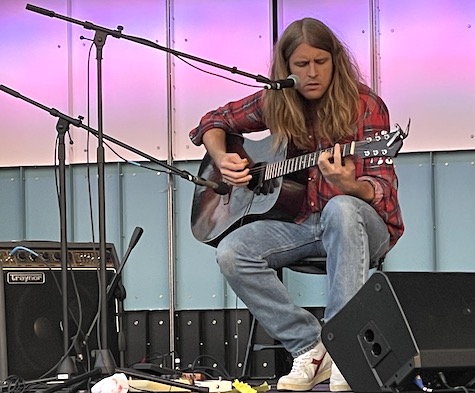 David Nance at the Little Bo Backyard Bash, Sept. 16, 2023.
David Nance closed out the day with a solo acoustic set. He's one of the only performers who can hold my attention with only his guitar and his voice. Despite the small crowd (by then, the Husker game had started), Nance looked content sitting on stage and singing his stories. 
* * *
Read Tim McMahan's blog daily at Lazy-i.com — an online music magazine that includes feature interviews, reviews and news. The focus is on the national indie music scene with a special emphasis on the best original bands in the Omaha area. Copyright © 2023 Tim McMahan. All rights reserved.