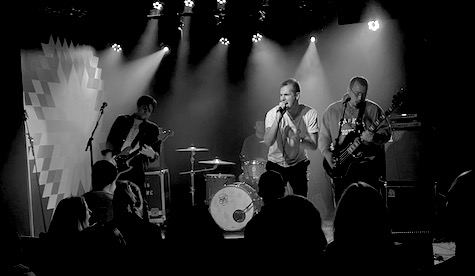 Civic at The Slowdown, Oct. 13, 2023.
by Tim McMahan, Lazy-i.com
Aussie band Civic didn't so much get NOmaha'd by the crowd as much as they were NOmaha'd by Bad Religion at the Admiral Friday night, or more accurately, Dwarves, who opened for Bad Religion. I have little doubt that the Admiral's show drew away their target audience, and it was a shame.
While it was an intense performance by Civic, you're naturally going to lose something when only playing in front of 50 or so people in a mostly empty Slowdown Jr. Frontman Jim McCullough made the best of things, asking the crowd to move up closer to the stage between songs. "We have a problem," he said with his charming Aussie accent. "This hole right here." He pointed at the empty space in front of him. "Move up. You don't have to be afraid."
The crowd did move up and a few even tried to start a shoving mosh pit to no avail. Certainly Civic's music lends itself to shoving, the band takes a clean, modern approach to punk rock even though their music is too well played for punk, sounding more like fast heavy metal with a snarl. I would have loved to have seen these guys play this show at a drunken, chaotic O'Leaver's back in its heyday. 
Regardless, despite the small crowd, Civic was good-hearted fun, clearly excited to be in Omaha (and Nebraska) for the first time. "For dinner, we were going to go to this joint where you can watch raccoons eat," McCullough said between songs, clearly referencing the Alpine Inn in Ponca Hills. "But we were two hours late so we'll have to throw some garbage in the pit and watch you eat it. Just kidding. When we come back, you're all going with us."
"And he's paying," quipped sideman Lewis Hodgson. Count me in. 
* * *
Read Tim McMahan's blog daily at Lazy-i.com — an online music magazine that includes feature interviews, reviews and news. The focus is on the national indie music scene with a special emphasis on the best original bands in the Omaha area. Copyright © 2023 Tim McMahan. All rights reserved.