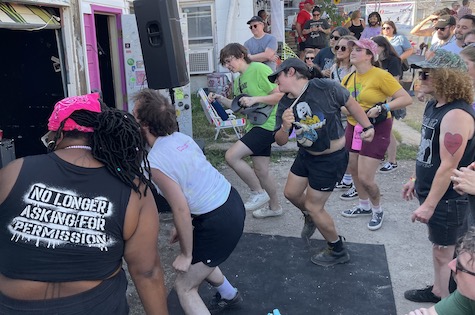 A small, sweaty moshpit formed during Cat Piss's set at a red-hot Petfest 2023.
by Tim McMahan, Lazy-i.com
If you thought this year's Maha Festival was miserably hot, it didn't hold a candle to Petfest last Saturday. With the heat index rising somewhere to around 105 degrees, the annual festival held behind Benson's Petshop Gallery felt like a survival contest. No doubt the extreme temperatures put a damper on the BFF fundraiser's attendance numbers, which, when I was there from 4 to 7 p.m., looked to only be around 100 sweaty, stoic bodies. 
Like last year, the festival performances switched between two stages – one inside the garage of Petshop, the other across the rock parking lot. Festival organizers hung colorful parachutes in an vain effort to provide something resembling shade. Goddamn, it was hot.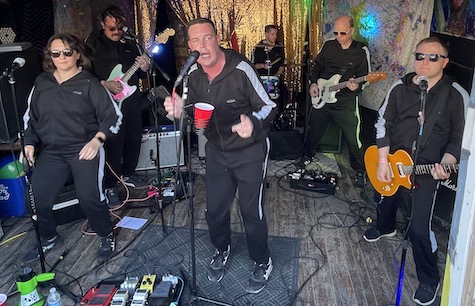 Thirst Things FIrst try not to implode from the heat at Petfest 2023, Aug. 19.
Despite the extremes, Lincoln band Thirst Things First kept with their tradition and wore matching black track suits — stifling. A red faced Mike Elfers ripped into their set backed by this always entertaining band that is sort of a cross between Devo and The Faint but with a better sense of humor. Just like last year, their synth and guitar-heavy sound wowed the crowd. What will it take to get these folks to play a show in one of Omaha's countless venues? The answer is $$$… or oil. 
Little Brazil perform under the parachutes on the "outside stage" at Petfest 2023.
Next up across the gravel-pit lot was Little Brazil. No matter the conditions, these guys bring the rock. They took the opportunity to roll out a couple new songs, which they say will be recorded and released on a 7-inch single early next year. On one of them, Landon Hedges played a unique dissonant chord progression countered by Shawn Cox's funky middle-Eastern-sounding riff.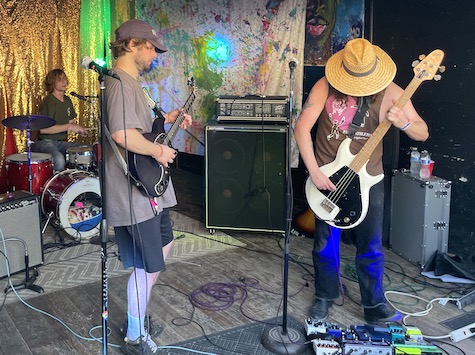 Cat Piss plays a scorching set in the Petshop garage stage.
Omaha post-punk power trio Cat Piss followed inside the Petshop garage and even got a few sweaty kids slamming in front of the garage door. 
While there was plenty of booze to choose from, Petfest didn't offer food options – in fact no food trucks or food vendors that I could find. Maybe Dundee Day or the Riverfront grand opening hogged them all (or they were just following Maha's example). That forced folks to leave the festival to eat, and likely provided a cooling respite from the heat and humidity in one of the nearby restaurants. I also needed a break, leaving after Cat Piss' set to go home and change out of my sopping wet clothes.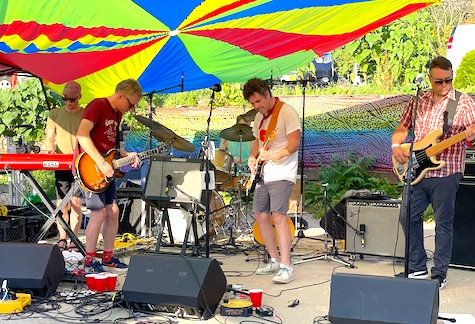 Head of Femur rips through another hot song on the Petfest "outdoor" stage.
But I was back an hour later to catch the full set from Head of Femur on the "outdoor stage." The band has been around since 2001, fronted by guitarist vocalist Matt Focht, they've released albums on a number of indie labels including Spin Art and Grey Day Records and are critical darlings thanks to their intense, intricate yet catchy take on prog rock. 
Focht and company rolled out a number of new songs that were more melodic and less proggy than their usual fare. To my ear they sounded more traditional — and groovier — and a natural for a festival like Outlandia next year. Here's hoping this new material is a  precursor to a new album. 
I split after Femur, though I could hear the festival echoing off the streets of Benson from my house a mile away. It's a shame that the heat got in the way, but a good time was had by the hearty few who endured the inferno.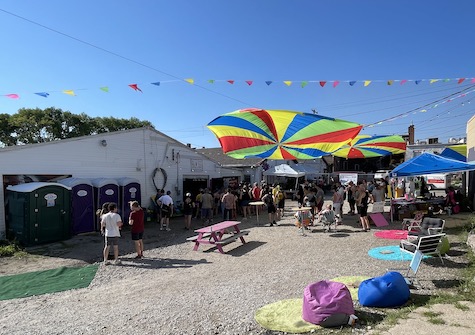 The Petfest compound looking North. Yes, i was as hot as it looks…
* * *
Read Tim McMahan's blog daily at Lazy-i.com — an online music magazine that includes feature interviews, reviews and news. The focus is on the national indie music scene with a special emphasis on the best original bands in the Omaha area. Copyright © 2023 Tim McMahan. All rights reserved.