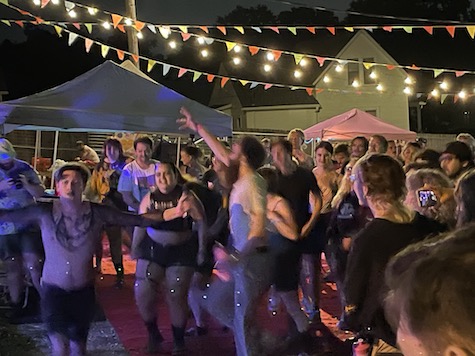 by Tim McMahan, Lazy-i.com
Petfest is this Saturday behind Petshop Gallery in Benson, 2725 No. 62nd St. If you thought last year's was a cornucopia of the best local talent, you're in for even more this year. We're talking two stages, one right next to the other, hosting bands playing 30-minute sets. If you don't like what you're hearing, go take a piss, grab a bite or a drink, and when you come back a different act will be performing (or a dope drag queen). 
We're talking 20 bands starting at 2 p.m. with Ojai and wrapping up at 10:35 p.m. with BIB (followed by DJ Scherritaivo). I don't know every act, but here are the ones I do know:
Head of Femur – Fronted by guitarist/vocalist Matt Focht with contributions by a plethora of local heroes, the band plays gorgeous indie that falls somewhere between folk rock and prog. 
Little Brazil – Sometime in the last 20-odd years they elevated to the status of "local legends." Founded by singer/songwriter/guitarist Landon Hedges and bassist/vocalist Danny Maxwell, the band was — and is — a staple of the Omaha indie music scene thanks to their punk-meets-emo rock histrionics. 
Mike Schlesinger – Acoustic singer/songwriter has the best voice of any performer from 'round these parts, playing sad folk indie songs guaranteed to break your heart. 
Thirst Things First – Lincoln band of uniformed musical miscreants is a cross between Devo and Uranium Club with a complicated backstory about a computer gone mad. DO NOT MISS.
Dereck Higgins – The one and only, his music spans every genre though lately the focus is on electronic dance and ambient (dare I say, jazz?). Who knows what he'll bring to the show Saturday. 
Cat Piss — The post-punk trio is carrying on a rock tradition with roots that run deep in Omaha's early '90s golden age of indie, but for a whole new generation. 
Pagan Athletes – Noise-rock brothers Griffin and Nathan Wolf make a jittery, noisy racket that will fray your nerves… in a good way. 
Universe Contest – The Lincoln band is massive in size and sound, like having our very own version of Modest Mouse (but back when Modest Mouse was good). 
The Machete Archive – Another classic Lincoln indie noise-rock band from back in the day, known for its guitar and bass histrionics, they've only improved with age. Epic. 
BIB – They're saving the hardest, fastest, punkest for last. BIB are redefining hardcore without losing sight of their roots. This is the real thing. 
And there's more, most of which I've never heard before, but no doubt all worth checking out.
Get in all day for just $30 dollars in advance (with no additional charges!) or $40 day of show. Plus art, a cash bar, and you're supporting the non-profit Benson First Friday crew. Here's the lineup, on two stages:
2:00 – OJAI
2:25 – Pagan Athletes
2:50 – Dereck Higgins
3:15 – XID
3:40 – Mike Schlesinger
4:05 – Specter Poetics
4:30 – Living Conditions
4:55 – Thirst Things First
5:25 – Little Brazil
5:55 – Cat Piss
6:30 – Nowhere
6:50 – Head of Femur
7:20 – The Machete Archive
7:50 – Face
8:20 – Child of Night
8:50 – Universe Contest
9:25 – Jeff in Leather
10:00 – Chew
10:35 – BIB
11:00 – DJ Scherritaivo
More info, tickets, schedule and other good stuff at the Petfest webpage, right here. See you there.
* * *
Read Tim McMahan's blog daily at Lazy-i.com — an online music magazine that includes feature interviews, reviews and news. The focus is on the national indie music scene with a special emphasis on the best original bands in the Omaha area. Copyright © 2023 Tim McMahan. All rights reserved.