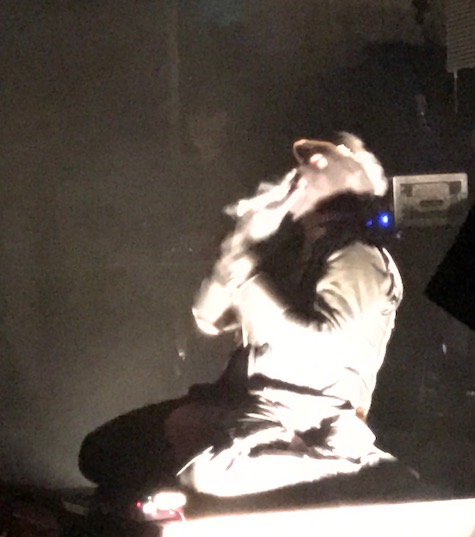 by Tim McMahan, Lazy-i.com
Apologies for the lack of updates. Lazy-i is updating its back office software, so some things are moving around that, if done properly, you shouldn't notice. Let me know if you do.
. 0 0 0 .
Local heroes The Faint have been added to the Just Like Heaven Festival May 13 in Pasadena. Rolling Stone said the third-annual one-day festival brings together "fan-favorite indie rock and electro-dance artists." Yeah Yeah Yeahs are the headliners and top billed include MGMT, Future Islands, and M83. The Faint is listed in the smaller type, but they're there. This is the first we've heard from the band in a few years, with frontman Todd Baechle living somewhere in the California desert near Thousand Palms, California. It'll be a return engagement for The Faint, who played at the first Just Like Heaven fest back in 2019.
Will this be a one-off show for The Faint? I highly doubt it. Keep your eyes peeled.
. 0 0 0 .
Since I've been remiss in posting, here are a few things that have been dangling in my in-box this week.
Singer/songwriter Stathi dropped a new track recently called "Make Sense, Make Amends." Says Stathi: "I collaborated with a friend of mine in NYC and producer Emmett Folger on this one, and we recorded the tune at his studio in Brooklyn. We played all of the instruments between the two of us and I recorded all of the vocals with the exception of the vocal samples that are laced into the song." Check it out and watch for a new demos release from Stathi in the coming weeks.
Omaha power pop act Names Without Numbers dropped a new single called "Florida." Says NWN's Dave Owens: "We plan to release 1-2 more singles and then an EP in spring. We already have studio time booked in May to record another collection of songs and hope for a late 2023 release. Then on top of that, it is the 20-year anniversary of our first LP, Running Marathons/Chasing Ambulances. We'll have a full remastered re-release with vinyl and other goodies later this year via Steadfast Records."
Cleveland's Steadfast Records counts The Appleseed Caste and Unwed Sailor among its roster. Check out the single below:
. 0 0 0 .
Actually, another reason for lack of updates has been the lack of shows. This weekend is no exception.
Only one show is on the radar — that bondage-loving EDM-powered, Lincoln-based, leather-gimp Plack Blague is playing an afternoon show at Reverb Lounge Sunday. You read that right – a matinee. Joining him is the rising local electronic music artist Jeff in Leather and Gore-TXT doing a DJ set. .No idea why the afternoon scheduling as there's nothing else on the Reverb schedule that day. So… experiment? $10, 3 p.m. It's as good a reason as any to do some day drinking.
And believe it or not, that's all I got. If I missed your show, put it in the comments section. Have a great weekend.
* * *
Read Tim McMahan's blog daily at Lazy-i.com — an online music magazine that includes feature interviews, reviews and news. The focus is on the national indie music scene with a special emphasis on the best original bands in the Omaha area. Copyright © 2023 Tim McMahan. All rights reserved.