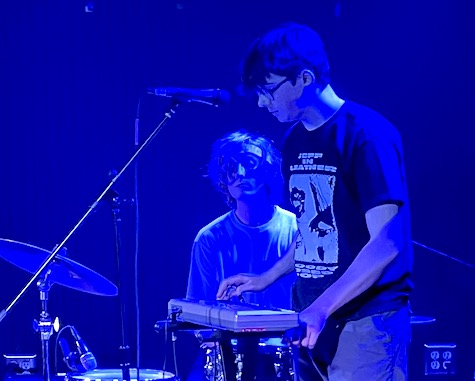 by Tim McMahan, Lazy-i.com
There's a few "news" items to pass along, but they will have to wait until Monday because… it's the weekend!
And once again, there are no national-touring indie shows on Omaha's weekend calendar. Such is life. We're a lonely species, we indie music lovers. Hey, we'll always have the past two decades, right?
Tonight at art space Project Project, 1818 Vinton St., Las Cruxes headlines a show as part of the Vinton St. "Second Friday" series (Do they call it #VSF?). What version of Las Cruxes will perform tonight – the big band or the power trio? Find out. Also on the bill are Stolen Wolves and Grief Police, two bands I'm unfamiliar with. 7 p.m., $5 donations accepted. 
That's about it for Friday.
Tomorrow (Saturday) singer/songwriter Stathi headlines a gig at Pageturners Lounge with the bar's chief capo Philip Schaffart. 8 p.m. and no cover.
Meanwhile, back in Benson, the prog power-duo of Griffin and Nathan Wolf —also known as Pagan Athletes — celebrates the release of their new album, Landlocked, at Reverb Lounge. I've listened to a few tracks and it's an edgy, drums-and-synth-powered, throbbing, noise-rock head trip. Providing support is the also-synth-powered Jeff in Leather and Omaha rockers Garst. $10, 9 p.m. 
Earlier in the day, Reverb is hosting the Omaha Girls Rock Headliner Showcase, where this year's batch of students shows off their talent. These shows are always jam-packed… with parents. Still, a lot of fun and it's free. 3 p.m. 
Also Saturday, punk legends The Queers headline this year's Punk Rock BBQ at The Waiting Room. This is an afternoon-to-evening, 10-band event that also includes Wyoming's Teenage Bottlerocket and Minneapolis band Tightwire. See the full line-up and other particulars here. Starts at 4 p.m.  $35.
And that's all I got. If I missed your show, put it in the comments section. Have a super-duper weekend…
* * *
Read Tim McMahan's blog daily at Lazy-i.com — an online music magazine that includes feature interviews, reviews and news. The focus is on the national indie music scene with a special emphasis on the best original bands in the Omaha area. Copyright © 2023 Tim McMahan. All rights reserved.