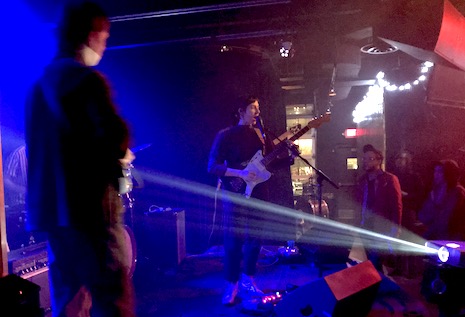 by Tim McMahan, Lazy-i.com
Feb. 17, 2023 – Remember last Friday when I said, 'Don't worry, there's a lot of great shows next weekend'? Well, I meant the weekend after next weekend, because there ain't nothing happening this weekend, until Sunday night.
Before we get to that, tickets to the inaugural concert at Steelhouse Omaha featuring Las Vegas alt rock band The Killers go on sale today at 10 a.m. The folks at Steelhouse are treating this like a contest, posting on social media tips for acquiring the $75 tickets (plus probably +$20 in fees) from Ticketmaster, and stating "Do not purchase from 3rd party vendors." Well, with no presale code for fans, and if demand is as brisk as they seem to think, there will be plenty of 3rd party vendors selling tickets well above face value. Thus is life.
Steelhouse yesterday also announced their next show, Fleet Foxes July 2, another band that misses the mark for me. I believe the last time they played here was outside of The Waiting Room back in September 2017. Singer/songwriter Uwade will open that show.
Steelhouse invited the media for a sneak peek of the new facility under construction Wednesday. I was unable to make it, but the Omaha World-Herald was there. Check out the article and brief video here. One interesting reveal I wasn't aware of – in addition to the 3,000 standing capacity (or 1,500 seated), the $104.1 million facility's balcony will offer seating for up to 300. Judging from the video, it'll be a race to the May 12 finish line.
. 0 0 0 .
OK, back to this weekend. There's nothing on the indie music radar tonight or Saturday night, but Sunday, two shows of note…
At The Waiting Room, Portland indie band STRFKR headlines. Originally a solo project by Josh Hodges, it's evolved into a full-on rock band releasing albums on Polyvinyl Records. Their latest single, "Running Around," marks a return to style after 2020's Ambient 1 all-instrumental tonal collection. Das Kope opens at 8 p.m. $25.
Meanwhile, right around the corner at Reverb Lounge Sunday night, Kristine Leschper headlines. You might know her by her project's former name, Mothers, which she is officially retiring with the release of The Opening, Or Closing of a Door, out March 4 on ANTI. The first single from that album is below. Opening for Leschper is Omaha singer/songwriter Anna McClellan, who is worth the price of admission by herself. Sgt Leisure also is on the bill. $15, 8 p.m.
And that's all I got. If I missed your show, put it in the comments section. Have a great weekend!
* * *
Read Tim McMahan's blog daily at Lazy-i.com — an online music magazine that includes feature interviews, reviews and news. The focus is on the n