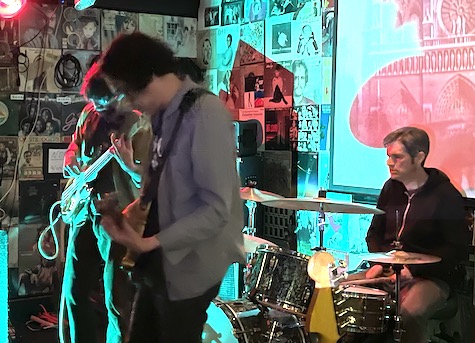 by Tim McMahan, Lazy-i.com
Hey, we have one touring indie act this weekend! And lots of local shows. Has anyone noticed Steelhouse only has one concert booked for the month of August (and it's a fricken WASP concert)? WTF?
Anyway, let's get positive, people.
We've had a ringside seat as Lomelda a.k.a. singer/songwriter Hannah Read, has gone from a touring opening act for Hovvdy at Reverb before the pandemic to a national indie star with more than a million monthly listeners on Spotify, touring with Magnetic Fields and opening a sold-out Death Cab for Cutie show like she did earlier this year at The Admiral. Now she's back in Omaha on a solo tour. Her last full-length was 2020's Hannah, released on Double Double Whammy Records. She's released a number of singles since then and no doubt has another full-length waiting in the wings. Tonight she plays at The Sydney in Benson with Omaha's own Anna McClellan.  9 p.m., $15.
Also tonight, just down the street at Reverb Lounge, Lodgings headlines a show with The Sun-Less Trio. I'm not sure why SLT isn't the headliner as the band, headed by local guitar-playing icon Mike Sakler, is celebrating the release of their new album, The Vanishing. 
Says the Bandcamp page about The Vanishing: "Sessions. were primarily hashed out to 2-track live in the December of 2022. Additional vocals and sounds in Spring of '23. Thread those tape machines holding on by a thread. Any perceived anomalies are in fact present, tape hiss, wow, flutter, dropouts. Strange panning and phasing." The final product is collection from Saklar keynoted by his haunted guitar tone and vocals. The trio is Saklar, drummer Marc Phillips, and bass player Cricket Kirk. Hard rock band Living Conditions opens the show at 8 p.m. $10.
Also tonight, San Diego surf-rock band The Frights headline at The Slowdown. Their latest, Gallows Humor, was released earlier this month on Here Lies Music, but they've also released material on Epitaph and Dangerbird in the past. Emo band Sad Park opens at 8 p.m. $25. 
Tomorrow night (Saturday), local indie band Bach Mai is celebrating an album release show at Reverb Lounge. I'm not sure which album (they don't say on their invites), but assume it's for their 6-song EP Good Try, which came out in early May (but isn't in Bandcamp, so…). Or maybe it's something else? Also on the bill is Uh Oh and Ghostlike. The music begins at 8 p.m. $10. 
And that's all I got. If I missed your show, put it in the comments section. Have a great weekend…
* * *
Read Tim McMahan's blog daily at Lazy-i.com — an online music magazine that includes feature interviews, reviews and news. The focus is on the national indie music scene with a special emphasis on the best original bands in the Omaha area. Copyright © 2023 Tim McMahan. All rights reserved.