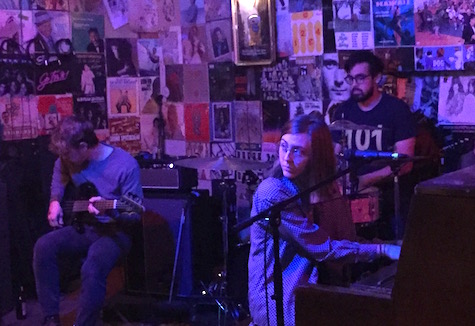 by Tim McMahan, Lazy-i.com
After a busy a week, a busy weekend, (or at least a busy Friday night). 
Tonight at fabulous O'Leaver's, former KC singer/songwriter now Brooklyn singer/songwriter Scout Gillette performs. Her new album No Roof No Floor (2022, Captured Tracks) vacillates between Mazzy Star dreaminess and Angel Olsen rock and is quite good. Opening is Omaha's own dreamy singer/songwriter, Anna McClellan. $10, 10 p.m. 
Also tonight… every so often out of the blue Yayo from Las Cruxes drops me a private track of something the band has been working on. I got three tracks last Sunday via Soundcloud, all produced by superstar producer/sound engineer/raconteur Ian Aeillo and all three pretty awesome. And all performed in Spanish, I have no idea what they mean, but they rock. The new records is due Aug. 5. No doubt Las Cruxes will be performing some of those tracks tonight at The Sydney where they play with NYC's Sky Creature, Omaha's Bad Self Portraits and Trees with Eyes. What's it cost? No idea, probably $10. Starts at 8:45. 
Also happening in Benson tonight at The Waiting Room, the return of all-female Led Zeppelin tribute band Zepparella, featuring Clementine in the John Bonham role. I saw them when they came through back in 2014 and they were lots o' fun. Opening is rough-hewn all-male band Bad Bad Men. $20, 8 p.m. 
Finally, Saturday night at The Waiting Room is a tribute to the late Lawrence Deal, who was a member of such notable local acts as Glow in the Dark and Civicminded. This five-band evening kicks off at 7:30 and is $12, with all proceeds going to a trust fund for Deal's daughter (gofundme). More info here.
That's all I got. If I missed your show, put it in the comments sections. Have a great weekend. 
* * *
Read Tim McMahan's blog daily at Lazy-i.com — an online music magazine that includes feature interviews, reviews and news. The focus is on the national indie music scene with a special emphasis on the best original bands in the Omaha area. Copyright © 2023 Tim McMahan. All rights reserved.
No Comments »
No comments yet.
RSS feed for comments on this post. TrackBack URL
Leave a comment