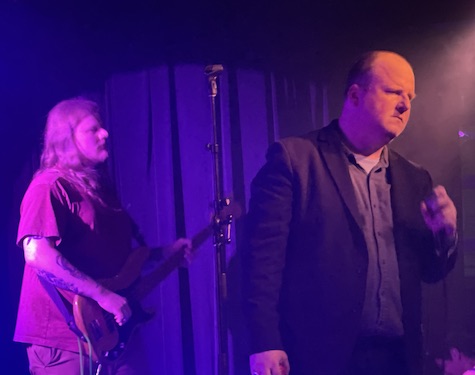 by Tim McMahan, Lazy-i.com
About three times as many people were on hand at Slowdown Jr. last night for Protomartyr than the previous evening's Titus Andronicus show. Someone who read yesterday's blog asked how the band has changed since I first saw them in 2014, and the answer: very little. Protomartyr's sound and style, which is combination of influences from The Fall to Gang of Four to The Pixies, is centered around a post-punk energy created by drummer Alex Leonard, bassist Scott Davidson and guitarist Greg Ahee.
At the center is vocalist Joe Casey, looking a little older, a little rounder than I remember from the last decade. Casey is at once a magnetic figure who demands your attention while at the same time looking like an everyday guy.
Glancing at my notes from last night: "He looks like an Irish Gandolfini, he looks like my accountant, he looks like my lawyer, in that black sports jacket he could be mistaken for a priest. He looks like my shop teacher, he looks like an angry plainclothes detective, he looks like Alfred Hitchcock, like every umpire in Boston, like a very upset  neighbor." 
With a low-boy can of Budweiser in one hand and the microphone in the other, Casey spat out lyrics – mostly yelling, sometimes talking, sometimes chanting – his voice cut through the throbbing punk like a blunt-force instrument through a skull. Most of it was undecipherable, which is a shame because Casey's lyrics are like blank verse observations of the messed up world we live in, often dark and pessimistic and the perfect match for this music.
The well-mannered crowd mostly stood and bobbed their heads but one small knot of energy frantically danced to every song and sometimes added their own rants, which were welcome.
I tried to imagine what this music would sound like with a traditional vocalist singing traditional rock melodies and of course it wouldn't work; it would be something different, something I wouldn't like. 
Throughout the set Casey politely thanked the crowd between songs, reminding us that the band is from Detroit and that they've been here many times. Later in the set he spoiled the plot to Cocaine Bear, saying actor Ray Liotta ("who is now dead") gets torn apart, and then explained the plot to 2014 film The Identical, also starring now dead Liotta, about a guy who looks like Elvis. It was weird, and strangely appropriate. Here's hoping they come back soon.
* * *
Read Tim McMahan's blog daily at Lazy-i.com — an online music magazine that includes feature interviews, reviews and news. The focus is on the national indie music scene with a special emphasis on the best original bands in the Omaha area. Copyright © 2023 Tim McMahan. All rights reserved.