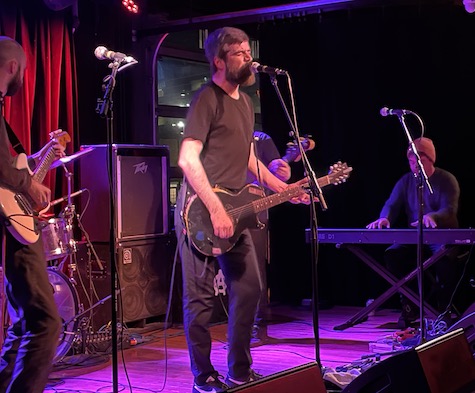 by Tim McMahan, Lazy-i.com
What to say about Patrick Stickles a.k.a. Patty Stax and his band, Titus Andronicus, who played a crushing set last night at Slowdown Jr.? In the four times or so that I've seen them, this was my favorite set. It also was their shortest set. Titus Andronicus sets used to be notoriously looooong; so long, in fact, after 90 minutes or more I would find myself hoping the next bludgeoning ballad was the last, but no, there was always another…
Performing last night as a five-piece, Titus Andronicus played a tight one-hour set that included a few new songs off their latest album along with a handful of their classics, which they packaged at the end in a sort of medley that included "Four Score and Seven," "A More Perfect Union" and "Titus Andronicus Forever." Those fist-pump almost-Celtic-flavored anthems were in stark contrast to the songs from their new album, The Will to Live, which had more in common with the Stones or Cheap Trick, complete with scorching guitar solos. 
And as much as I liked the three-song epic closer, my favorite moment was a rousing version of "Tumult Around the World" off 2019's An Obelisk, which sounded like a hyper-active version of "Sweet Jane" played by Thin Lizzy.  Actually, every song felt like a high-voltage energy buzzsaw, with Stickles lighting the fuse from one explosive rocker to the next, backed by a rock solid band of brothers. I get a sense that, from one town to the next, whether playing in front of 50 like last night or 500 or 15, Stickles and Co. always bring the same manic perfection and will from now until the end of time. 
. 0 0 0 .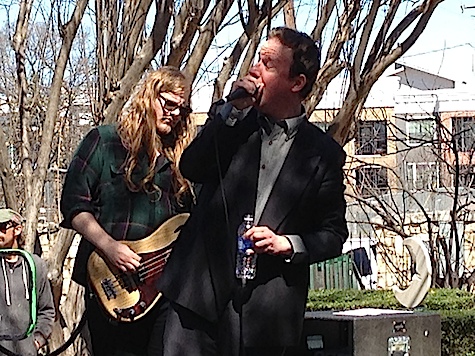 Tonight, it's back to The Slowdown for the return of Detroit post-punk legends Protomartyr. Their last full length was 2020's Ultimate Success Today (Domino Records), but they've got a new one waiting in the wings called Formal Growth in the Desert, slated for a June 2 release on Domino. 
According to the one-sheet, "Formal Growth In The Desert is a testament to conflicting realities — the inevitability of loss, the necessity of finding joy through it and persisting — that come with living longer and continuing to create. It begins with pain but endures through it, cracking itself open into a gently-sweeping torrent of sound that is, for Protomartyr, totally new."
I'm not sure what they're talking about, although it might have something to do with frontman Joe Casey's "period of colossal transition" that took place with the death of his mother.  The band just wrapped up four days at South by Southwest, where (like Titus Andronicus) I first saw them play in 2014, where I described them this way:
"The Detroit-based punk band is fronted by a guy who looks like an insurance salesman, complete with a sensible haircut and full-on business attire, but who has a singing style akin to Husker-era Mould or The Fall's Mark E. Smith. Deadpan anger, straight-faced disgust, like an upset father with a controlled rage and a back-up band that is pure Gang of Four post punk."
Hopefully nothing has changed. Opening tonight at Slowdown Jr. is Dan Brennan's band Healer, a local supergroup that includes two members of Noah's Ark Was a Spaceship — Andrew Gustafson on guitar and John Svatos on bass — and two members of UUVVWWZ — David Ozinga on drums and Jim Schroeder on bass VI and Rhodes. Or at least it did the last time I saw them. 
Show starts at 8 p.m., $22, and you may want to get tickets now because this one could sell out. 
* * *
Read Tim McMahan's blog daily at Lazy-i.com — an online music magazine that includes feature interviews, reviews and news. The focus is on the national indie music scene with a special emphasis on the best original bands in the Omaha area. Copyright © 2023 Tim McMahan. All rights reserved.
No Comments »
No comments yet.
RSS feed for comments on this post. TrackBack URL
Leave a comment