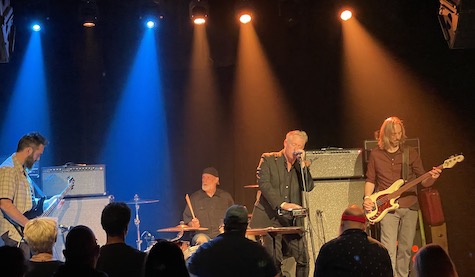 Violenteer at Reverb Lounge June 24, 2023.
by Tim McMahan, Lazy-i.com
Violenteer's old hook used to be their double basses and the trippy, almost Floydian quality of some of the mostly instrumental music. But now with the addition of new vocalist Steve Tulipana, the KC guy you might remember from noise rock bands Season to Risk and Roman Numerals, Violenteer has transformed into something that's not wholly different but not the same, either.
Those two basses are still there, along with a new drummer who I didn't recognize, but now Tulipana is at the heart of the matter, a showman vocalist who sings as if he's standing on the edge of an arena stage instead of in front of about 75 people at Reverb Lounge last Saturday night. Ranging from post-grunge yell vocals to simply spitting out lyrics over Barry and Randy Cotton's riffs, Tulipana was like a ringmaster emoting to the crowd, switching between a standard microphone and hand-held CB radio microphone that distorted his vocals through the magic of pedals or a synth, 
Also controlling some electronic gadgetry, Tulipana and his voice provided another instrument that cuts through the bass sludge at times like a lead guitar, rounding out the heavy metal. On the one song that wasn't a minor-key stomper, Tulipana sounded like a latter-day Daltrey. Alas, the mix was too rough to make out any of the words, which no doubt would have added another layer to the dark matter. All in all, they're like a new band playing that old heavy metal punk we all remember from the '90s. 

Little Brazil at Reverb Lounge, June 24, 2023.
Little Brazil had a tougher night. While the band was on point as per usual, frontman Landon Hedges struggled hearing himself in the monitors, or so it seemed as he continued to signal to the soundboard, resulting in some uncertainty in his usual high-wire act vocal delivery, unlike the stellar vocals heard at that recent Maha announcement gig. Oh, Landon still has it, he just needs to be able to hear himself while he does it.
* * *
Read Tim McMahan's blog daily at Lazy-i.com — an online music magazine that includes feature interviews, reviews and news. The focus is on the national indie music scene with a special emphasis on the best original bands in the Omaha area. Copyright © 2023 Tim McMahan. All rights reserved.
No Comments »
No comments yet.
RSS feed for comments on this post. TrackBack URL
Leave a comment