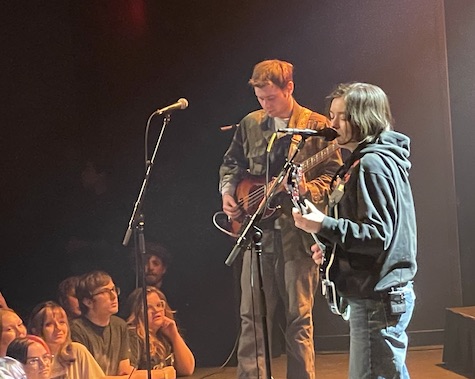 by Tim McMahan, Lazy-i.com
If it wasn't a sell out it was the closest thing to it Saturday night at The Slowdown. Water from Your Eyes had just started their set when I arrived at after 9. They played as a three piece – guitarist Nate Amos and vocalist Rachel Brown with a bass player. The drums were prerecorded backing tracks that Amos controlled from a MacBook that sat next to his pedal board — full-on synth tracks and beats, which he cued up throughout the evening. 
Their set was almost identical to what they played at Reverb Lounge late last year opening for Palm, switching between mid-tempo, meandering crooners and harsh, brittle, noise symphonies that saw Amos playing cut-jab guitar riffs over acidic synth tones while Brown either spoke or sang lyrics in beat with the dissonance. Those art-noise experiments were the evening's highlight, wonky and off-kilter and at times unsettling and/or groovy. I hope this is where they're headed on their upcoming album rather than the serene tone poems heard on earlier recordings.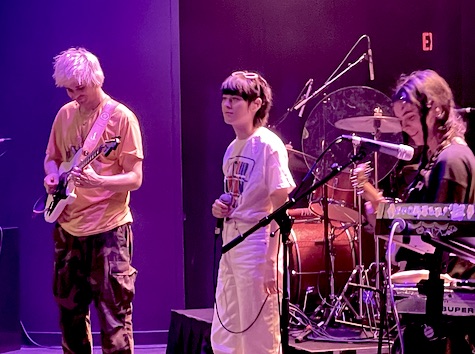 Brown looked like a 13-year-old boy wandering around stage between songs while Amos re-tuned or cued up the next song on the playlist. The seemed like a very young band halfway to figuring out where they want their sound to go. I can't imagine what Snail Mail fans thought of them.
That said, their set was far more dynamic and interesting than Snail Mail's, which was low-energy by-the-numbers female-fronted indie rock. Lead singer Lindsey Jordan's voice sounded remarkably pedestrian in a mix that only highlighted her limitations. 
Jordan talked about tour bus problems (break-downs, crashes, near-death experiences) and mentioned recently firing a member of the band, which I assume was their guitarist. All this after being on the road for a solid year touring this record. She spoke about having written one song with a difficult guitar part, but thinking "it doesn't matter because I won't be the one who has to play it." I guess the joke was on her. 
A flat performance, but it didn't matter to the capacity crowd squeezed onto the floor in front of the stage who came to hear these songs and sing along, as they did throughout the night. 
* * *
Read Tim McMahan's blog daily at Lazy-i.com — an online music magazine that includes feature interviews, reviews and news. The focus is on the national indie music scene with a special emphasis on the best original bands in the Omaha area. Copyright © 2023 Tim McMahan. All rights reserved.