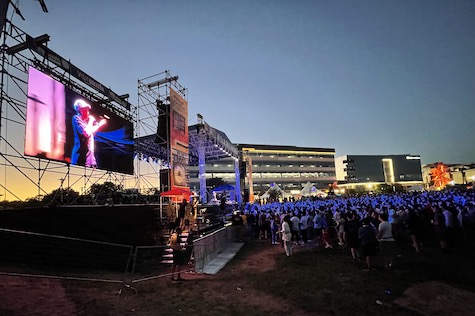 by Tim McMahan, Lazy-i.com
Channel 7 is calling it "impact" weather and the National Weather Service has issued a heat warning – what can I say, it's gonna be hot as hell tonight at the Maha Music Festival. The saving grace could be the expected overnight storms that will cool things off for Saturday (as long as those storms don't knock down the stage equipment!).
Full run downs on both days including schedules, band descriptions and music samples, were posted earlier this week: Friday's line-up; Saturday's line-up.
Maha knows they've got to deal with the weather and are setting up hydration wagons, misters and cooling stations, and the comedy tent is air conditioned if you want some post-set relief.
That said, a hot, steamy night will only enhance Turnstile's set… if folks show up for it.
More info about the Maha Festival including tickets ($70 per day), are at mahafestival.com. See you there.
. 0 0 0 .
OK, so you're not going to Maha. What are your options for the weekend?
Tonight in the air conditioned confines of The Sydney in Benson, it's Omaha's tractor-punk heroes Wagon Blasters (now here's a band that's been sorely missing from the Maha Festival stage). Joining them tonight are bands In Tongues and Josiah and the Messiahs. I'm not familiar with either band, but found this Bandcamp listing for Josiah a.k.a. Josiah Hazel. $10, 9 p.m.
Meanwhile tonight down the street in the air conditioned confines of The Waiting Room Lincoln electro-leather-dude Plack Blague headlines a show with Omaha living legend Solid Goldberg – the one-man project of Dave Goldberg. If you have not seen SG, do yourself a favor. Ex Lover opens the show at 9 p.m. $10.
Tomorrow night (Saturday) the action as in the air-conditioned confines of fabulous O'Leaver's where Violenteer is headlining. The project by the Cotton brothers (both on bass) added a vocalist recently — Steve Tulipana, the KC guy you might remember from noise rock bands Season to Risk and Roman Numerals. The addition has changed everything (see review). Joining them are Aircraft Grade, an instrumental noise-rock duo from Omaha celebrating a record release, and noise project The Fatal E's. This is a free show (yay!) and starts at 9 p.m.
And that's all I got. If I missed your show, put it in the comments section. Have a red hot weekend!
* * *
Read Tim McMahan's blog daily at Lazy-i.com — an online music magazine that includes feature interviews, reviews and news. The focus is on the national indie music scene with a special emphasis on the best original bands in the Omaha area. Copyright © 2023 Tim McMahan. All rights reserved.