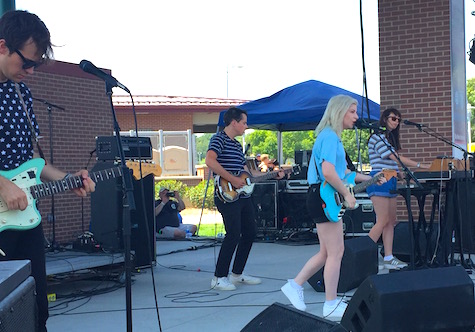 by Tim McMahan, Lazy-i.com
They'll be a time when the Maha Festival and related events will extend over an entire week. We're not there yet, but after Maha moves downtown to the Riverfront next year, I wouldn't be surprised if you begin seeing weeklong Maha-related events popping up in an effort to both expand the festival and provide some extra options for those traveling to Omaha. Speculation is all that is.
This year's Maha will be a great festival/concert, however, it's going to be hot as hell. I'm reminded of this debacle from 20 years ago, and I'm sure Maha organizers are getting a bit nervous when the heat index is forecast to be above 100 on Friday.
Friday, btw, could end up being the biggest draw of the weekend, thanks to Turnstile and Alvvays. Here's a look at Friday's schedule:
Friday
4 p.m. – Gates Open
4:30 p.m. – BIB
5:15 p.m. – Hakim
6 p.m. – Icky Blossoms
7 p.m. – Ekkstacy
8 p.m. – Alvvays
9:30 p.m. – Turnstile
The festival's most incendiary band just happens to be the first up. BIB is an Omaha-based national touring hardcore act that will leave the Maha crowd (if there is a crowd there at 4 p.m.) scratching their heads wondering what the hell just happened. Their last full-length, Deluxe, was released on Maryland's Pop Wig Records. Touring has made them a known quantity throughout the country. Had I been in charge of the festival's programming, I would have put them on right before Turnstile instead of a time where they'll likely be playing mostly to volunteers and vendors.
Hakim is another local, this time from Lincoln. I know virtually nothing about Hakim and couldn't find his music in Spotify, but did find it on good o' Bandcamp, which has his 2020 album, The Magnificent Obsession, released on Corn Coast Co. Check it below.
Then comes Icky Blossoms, perhaps the most surprising "get" for this year's Maha. The band hasn't released anything since 2015's Mask (Saddle Creek Records), but captured some exposure last year (or was it the year before?) when one of their songs, "Sex to the Devil," was the soundtrack for a runway show in Paris.
The band's origins go back to the aught years when frontman Derek Pressnall was in a little tap-dancing sensation called Tilly and the Wall that stormed the country (including late-night TV). Tilly was a cute ensemble, some might say a novelty, but there was more to it than that (a Tilly reunion would have been a real hoot!).
After Tilly, Pressnall would go on to form Flowers Forever, a more straightforward indie band that recorded on Team Love – Conor Oberst's offshoot label that also had released the Tilly debut. Then in 2011 Pressnall formed Flowers Forever with Nik Fackler and Sarah Bohling, releasing their self-titled debut the following year on Saddle Creek Records. Of the three Pressnall projects, Icky is musically my favorite though it never seemed to grab the attention Tilly gained back in the day – a time when anything associated with Saddle Creek indie headline fodder.
I haven't heard much about this reunion except there's a lot of excitement for it.
Ekkstacy is another surprise booking this year. It's a one-man producer-type project whose song, "I Walk This Earth All By Myself," became a hit a couple years ago and is still played on Sirius XMU – the all indie satellite radio station. His latest album, Misery, was released last November and is more of the same stuff inspired by The Cure, Flock of Seagulls, New Order and so on.
Then comes the first of what really are duo headliners for the evening.
Alvvays played Maha back in 2015, and since then the band has only gotten bigger thanks to their 2022 album, Blue Rev, which made it on a lot of critic's year-end favorites' list (including mine).
But the big push Friday night will be for Turnstile, a band whose current momentum may drive ticket sales above the Saturday's levels. Turnstile's music is described as "melodic hardcore," though it bleeds into alternative metal territory. Big grooves, power beats, hyperactive rhythms and a frontman who can actually sing instead of just grunt/scream. This is one of those bands that gets a crowd bouncing. Their 2021 album Glow On (Roadrunner) not only was a Pitchfork "best new music" honoree but was also nominated for three Grammys.
It should be a hot, sweaty good time. Tickets still available at mahafestival.com. Tomorrow I'll cover the Saturday line-up.
. 0 0 0 .
Tonight at Slowdown is a band that would have been a nice fit for this year's Maha Festival. On his new album, Heavy Is a Junkyard (2023, Fat Possum) Youth Lagoon, a.k.a.Trevor Powers, turned his songwriting back on himself after suffering a vicious health scare. The record's style is obviously more personal, and as a result, much more interesting than his earlier stuff. Up-and-coming singer/songwriter Nina Keith opens at 8 p.m. $25.
* * *
Read Tim McMahan's blog daily at Lazy-i.com — an online music magazine that includes feature interviews, reviews and news. The focus is on the national indie music scene with a special emphasis on the best original bands in the Omaha area. Copyright © 2023 Tim McMahan. All rights reserved.
No Comments »
No comments yet.
RSS feed for comments on this post. TrackBack URL
Leave a comment