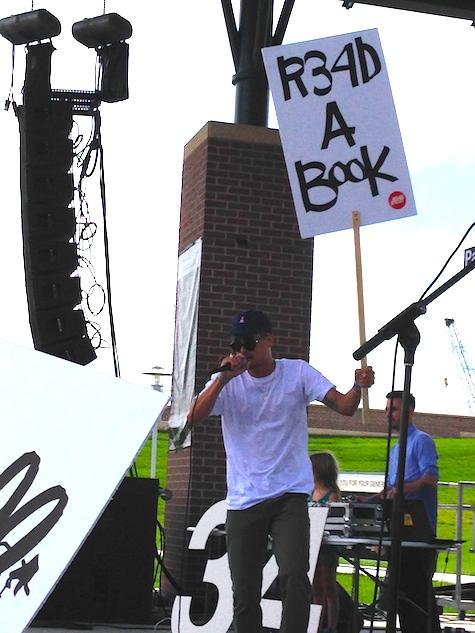 by Tim McMahan, Lazy-i.com
The unique thing about this year's Saturday Maha Music Festival line-up is that I might actually stick around for the headliner.
A quick look at the Saturday schedule:
2 p.m. – Gates Open
2:30 p.m. – Ebba Rose
3 p.m. Nebraska Writers Collective Youth Poets
3:15 p.m. – Garst
3:45 p.m. – Omaha Girls Rock
4 p.m. – M34n Str33t
4:30 p.m. – Say She She
5:15 p.m. – Black Belt Eagle Scout
6 p.m. – Terry Presume
7 p.m. – The Beths
8 p.m. – Peach Pit
9:30 p.m. – Big Thief
Ebba Rose and Garst, two local up-and-coming acts, have the dreaded opening spots, likely even more dreadful this year if the heatwave continues. I've not seen Ebba Rose perform and heard only bits of her recently released album. Garst is more of a straight ahead rock band than an indie act.
The real fireworks begin at 4 p.m. with M34n Str33t. This is a return engagement for the hip-hop ensemble fronted by Connie Franko and produced by Haunted Gauntlet, who played Maha back in 2014. Always entertaining, they're one of the most under appreciated Nebraska acts that light up the stage whenever they perform.
Disco funk trio Say She She was an unknown when announced for this year's Maha line-up. They're still very much under the radar. Who knows if that'll change. They're playing 7th St. Entry tonight in Minneapolis in support of their new album, Astral Plane (Karma Chief  / Colemine Records). Disco dancing at 4:30 in the afternoon? Why not. 
Black Belt Eagle Scout, another emerging artist, happens to be on our hometown label, Saddle Creek Records. They released her most recent LP, The Land, the Water, the Sky, back in February to critical huzzahs. Fronted by Portland singer/songwriter Katherine Paul, her style has been compared to Mazzy Star, and I can see that at times, though she has a more somber, spiritual approach versus Mazzy's laid-back sexiness. BBES played a rather subdued set to a small crowd at Reverb back in September 2018. 
Nashville rapper Terry Presume has been recording since he was 13 growing up in Naples. FL. His latest single is "Loner," released last year on Big Ass Kids Records. I know virtually nothing about Presume so this will be a music discovery moment for yours truly.
The festival's main line-up begins at 7 with The Beths. The New Zealand quartet is on the upper tier of touring indie acts thanks to the popularity of last year's LP, Experts in a Dying Field (Carpark Records), and their breakout album, 2018's Future Me Hates Me, whose title track got played endlessly on XMU. Their sound epitomizes female-fronted college rock with influences dating back to acts like Blake Babies / Juliana Hatfield, which they very much remind me of. I caught their packed performance at Slowdown Jr. in July 2019 and loved it. 
Vancouver band Peach Pit, fronted by guitarist/vocalist Neil Smith, is more of a major label rock act (they're on Columbia) that had a peak moment back in 2018 with LP Being So Normal. Judging by their Spotify numbers, they're as popular as the headliner, but I rarely hear their music. They have a kind of laidback style, which will hopefully compliment the festival's laidback headliner. 
Finally, there's Big Thief. They just headlined Pitchforkfest last weekend – it doesn't get any more indie than that. Maha typically has a something either over-the-top or a pop-level act as a headliner. Last year it was Beach House, the year before, Khruangbin, then Covid and before that, Lizzo. I generally watch a couple songs from the headliner then hit the road. Depending on what they roll out on the main stage, however, I may stick around for the full set Saturday night. 
Big Thief's latest, the double-LP, Dragon New Warm Mountian I Believe in You (2022, 4AD), is chock full o' good songs in a variety of styles. It all comes down to how they present it. And while they may be a big deal in the indie world, I'm not sure many people at Stinson Park will know who they are. 
Anyway, tickets at mahafestival.com.
And a reminder – there will be no foodtrucks on the festival grounds this year, so be prepared to dine at one of Aksarben's many fine restraurants before or during the festival. Maha is promising an easy in-and-out process to facilitate your dining needs. And while there's no food at Maha (except for VIPs), there will be plenty of booze available. 
This is the last year for Stinson before Maha heads downtown to the riverfront. Here's hoping it goes off with a bang. 
* * *
Read Tim McMahan's blog daily at Lazy-i.com — an online music magazine that includes feature interviews, reviews and news. The focus is on the national indie music scene with a special emphasis on the best original bands in the Omaha area. Copyright © 2023 Tim McMahan. All rights reserved.
No Comments »
No comments yet.
RSS feed for comments on this post. TrackBack URL
Leave a comment