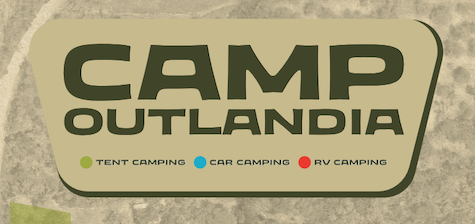 by Tim McMahan, Lazy-i.com
Outlandia Festival tickets went on sale last Friday and though the VIP prices have gone up, General Admission tickets are actually a little less compared to last year. The reason? They've included your parking fee right in the ticket price. 
This year, ticket prices are $89 for a single-day pass or $169 for a 2-day pass, but both come with general admission parking. Last year tickets were $79 single day / $149 2-day, but general admission parking was $25 (or $15 if you were willing to take a shuttle to your car). So… cheaper, right?
However, Outlandia VIP tickets this year are $249 for one-day passes and $449 for two-day passes – which is a price bump compared to 2022 when VIP tickets were $199 for one-day, $340 for 2-day passes with VIP parking included. That's a substantial increase.
Not charging for parking is obviously a good idea – not only does it seem like a better value but it's a lot less confusing than last year, where people didn't understand the parking situation or felt ripped when they found out that they were being gouged for parking. Odd that Outlandia hasn't ballyhooed the free parking.
Comparably, the price for Maha Festival tickets are $50 for Friday night, $60 for Saturday, $100 two-day; VIPS are $130 for Friday, $160 for Saturday and $240 for 2-day VIPs. Parking has always been free and abundant at Maha. That's a price increase for Friday and 2-day tix over last year's pricing, which were $35 for Friday night, $65 for Saturday and $85 for both days. VIP tix in 2022 were $90 Friday, $165 Saturday and $230 for two day. So, strangely, Saturday prices are cheaper this year.
Maha has already posted a "low ticket" warning, that's because the current price point for general admission will eventually go up by $10 per ticket, and then another $10 increase day of show. VIPs are static. They used to call these Tier I tickets "early bird" pricing. Remember when they used to offer the discount before they announced the lineup?
Like I've always said, if you're really into the Maha line-up, and you've got the bread, VIPs are really the best way to go – food, your own bar, fantastic sight lines, private bathroom, shelter from the sun – it's worth it.
Outlandia VIP tickets are a simlar value. Conversely, if you're going to the entire Outlandia weekend, camping would be the way to go because, once you're there, you're there. No parking hassles, no weird traffic hangups (though it's not clear if you can camp overnight and leave the day following the festival).
Weekend camping passes are $100; car camping passes (which come with two camping passes) are $250 and RV camping passes are $800 (and also include two camping passes). Priced DO NOT include festival tickets. Camping is only available to festival ticket holders, and only people with camping passes can access the campsite, where you must be 21 to enter. Lots of rules for this one – beverages must be purchased from Camp Outlandia, outside food is allowed but you can't bring it with you to the festival grounds. No grills or campfires!
So waitaminit, I can't bring my own cooler full of booze? Then again, something tells me these campers will be imbibing in something other than booze for their good times…
I'm not a camping-type person, but I asked a friend who and he thought the RV prices were steep unless they included hookups. This being their first year for camping, I'd have offered a discount, but hey, they have their reasons, right? 
I didn't attend Outlandia last year, but was told getting in and out was relatively painless, and you know it'll be even smoother the second year (especially with "free" parking).
* * *
Read Tim McMahan's blog daily at Lazy-i.com — an online music magazine that includes feature interviews, reviews and news. The focus is on the national indie music scene with a special emphasis on the best original bands in the Omaha area. Copyright © 2023 Tim McMahan. All rights reserved.
No Comments »
No comments yet.
RSS feed for comments on this post. TrackBack URL
Leave a comment