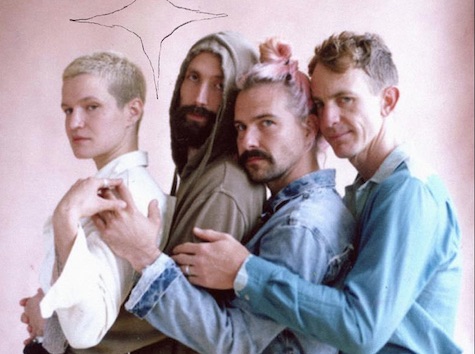 by Tim McMahan, Lazy-i.com
If you're anywhere near social media you already know that the 2023 Maha Music Festival Lineup was announced at today at noon. The 15th annual festival takes place July 28 and 29 at Stinson Park in Aksarben Village, which (rumor has it) may be the last time at that location.
Big Thief is the festival's Saturday headliner. Arguably one of the most popular and critically acclaimed bands in indie, Big Thief started their careers releasing albums on our city's very own Saddle Creek Records before heading off to 4AD Records a few years ago. Last year's double album, Dragon New Warm Mountain I Believe in You, was on many critics' "best of" lists (including mine). This isn't their first trip to Omaha. Big Thief played the late, great Lookout Lounge (opening for Yuck) way back in 2016, and returned a year later to play at O'Leaver's.
Festival headline gigs are usually high-energy affairs. Can Big Thief bring the party? While I love their music, it's pretty low-key folk rock, and you have to wonder how many people around these parts even know who Big Thief is. Then again, how many people had heard of Khruangbin when they headlined in 2021 or, for that matter, Beach House last year?
Vancouver indie pop band Peach Pit should provide a peaceful, easy lead-in to Big Thief Saturday. Their low-key songs tell stories about love and relationship, etc. Indie in name only, they record on Columbia Records, and played a sold-out Slowdown Jr. back in October 2018.  
Pop New Zealanders The Beths also are on the Saturday list. They played Slowdown Jr. in July 2019 and released the fetching Experts in a Dying Field last year on Carpark Records. Another familiar band, Saddle Creek Records stars Black Belt Eagle Scout, also play Saturday. They just released The Land, the Water, The Sky on The Creek a few weeks ago. BBES played Reverb back in September 2018. Then along comes a couple bands I'm not familiar with. Naples by way of Nashville hip-hop/R&B artist Terry Presume has a Saturday afternoon slot along with disco-pop trio Say She She (Karma Chief Records). And then there's the locals. Omaha hip-hop legends M34N STR33T, local rockers Garst and singer/songwriter Ebba Rose.
If Saturday's Maha bill sounds like a pleasant afternoon in the park, Friday night's line-up really is the party. Headline Friday night is Turnstile. Their 2021 album Glow On (Roadrunner Records) is over-the-top power emo at its finest. Expect an overly caffeinated, energized, jumping crowd, pounding the Stinson Park turf with either pogos and/or moshing. 
Second-billed Friday night are critical darlings Alvvays, who played Maha back in 2015. Their 2022 album Blue Rev (Polyvinyl) also topped a number of critics' best of list last year (including mine). The only thing I know about electronic dance maven Ekkstacy is his single, "I Walk This Earth All By Myself," which has received solid airplay on Sirius XMU. Maybe the biggest surprise fo the entire Maha 2023 line-up is the return of Icky Blossoms. I think the last time I saw them play was back at Slowdown in July 2015. They've been on a hiatus for a few years, though their music recently showed up on a runway show in Paris! No idea what their appearance at Maha means for their future. Local hip-hop act Hakim also is on the Friday bill. Kicking things off is the incendiary, brutal hardcore rock of BIB — something tells me their set will be the one that people talk about weeks after the festival.
This is a very indie-heavy line-up and something of a surprise considering how 1% and The Slowdown have really pulled back on their indie bookings over the past year. In many ways, it's a catch-up festival for bands that skipped Omaha over the past couple years.
Tickets go on sale this Friday at 10 a.m. CT at MahaFestival.com. VIP tickets are $130 for Friday, $160 for Saturday, and $240 for two-day, and include air-conditioned restrooms, an exclusive viewing area near the main stage, complimentary food from Omaha restaurant Via Farina, and more. NOTE: If you intend to go, I suggest buying VIPs. You'll thank me later. General Admission tickets are $50 for Friday, $60 for Saturday, and $100 for two-day; GA prices will increase once the limited quantity of Tier 1 tickets sell out — not entirely sure what that means.
Maha says they expect more than 13,000 total over the two days. That seems to assume they expect light draw for Friday, but I think Friday could draw as many or more than Saturday because Turnstile has never been here before (that I know of) and their live shows have a rep for being somewhat epic, much like concerts by The Faint. 
* * *
Read Tim McMahan's blog daily at Lazy-i.com — an online music magazine that includes feature interviews, reviews and news. The focus is on the national indie music scene with a special emphasis on the best original bands in the Omaha area. Copyright © 2023 Tim McMahan. All rights reserved.