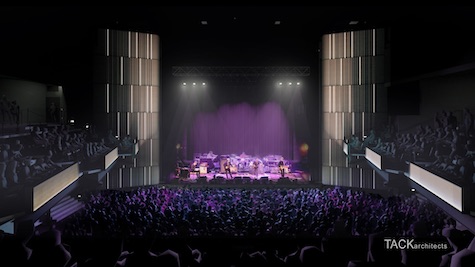 by Tim McMahan, Lazy-i.com
Omaha.com yesterday published a story that reports The Astro Theater in La Vista plans to stage its first outdoor show in late summer. Beyond the headline and the lead paragraph, there's little if any news about the actual theater in the article, which focuses on the overall development. We used to call that "bait and switch." That said, this is the first new "news" about the project in months. Here's some older information about the project, which broke ground back in September 2021.
In other news, Maha announced it "sold out" its "Tier I" tickets to its July 28-29 music festival, effectively raising prices for all general admission tickets by $10 per day. Did they actually sell out or is this just the scheduled end of "early bird" pricing? Who knows. I've heard very little about ticket demand. Their Friday night line-up is headlined by Turnstile, while Saturday's headliner is Big Thief. More info at Mahafestival.com
It's been another quiet period for news and shows as we've appeared to fallen into another dry spot for scheduled touring indie gigs. The next 1% indie show is Damien Jurado, April 26, while the next indie show at The Slowdown is Brooks Nielsen, formerly of The Growlers, April 28. Here's hoping things pick up in the coming weeks as the weather warms…
* * *
Read Tim McMahan's blog daily at Lazy-i.com — an online music magazine that includes feature interviews, reviews and news. The focus is on the national indie music scene with a special emphasis on the best original bands in the Omaha area. Copyright © 2023 Tim McMahan. All rights reserved.