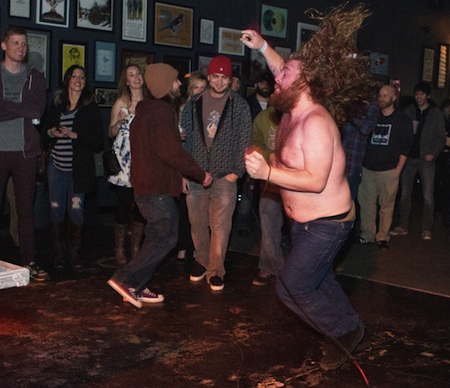 by Tim McMahan, Lazy-i.com
In the news department, Lincoln and sometimes Omaha electronic-fueled singer, songwriter and beat maker Darren Keen says he's moving to Chicago. You likely know Darren from his current project, PROBLEMS, as well as his former project, The Show Is the Rainbow.
In Darren's own words: "It's just time. Gotta go back to a bigger city." Keen spent years in NYC before moving back to Nebraska. His music continues to grow and he's been touring his one-man project constantly the last few years. Chicago is a smart move and something tells me will provide a happy ending to an already pretty happy story.
To send him off in style, PROBLEMS has two nights of going away gigs this weekend. Friday night, PROBLEMS is at Duffy's Lounge in Lincoln with Pagan Athletes and Benjamin Gear X. $10, 6 to 9 p.m. Sunday night (July 16), PROBLEMS plays The Sydney in Benson with Turquoise, Cultplay and Oceanz. 5 to 9 p.m., $10 donation.
Come say goodbye to a dude who has been a staple of Nebraska music for the past 20 years! Don't forget us, Darren…
. 0 0 0 .
What's happening tonight?
Down at The Slowdown in the Main Room, Oregon band Flor headlines. The four-piece (now a trio) is a self-proclaimed indie band and Fueled by Ramen is, indeed, an indie label (The Front Bottoms, Panic at the Disco) or should I say "was" as they were bought by Elektra Records in 2018. Flor is more of a pop band masquerading as an indie. That said, the acts opening for Flor tonight — Bad Self Portraits and BB Sledge — are as indie as they come. $25, 8 p.m. 
Also tonight, Safe Space plays at The Sydney in Benson. This is the indie-style project by the pop singer/songwriter who performs locally by the name "Ione." In this iteration, she sings singer/songwriter fare alongside a talented guitarist – quite a contrast to the Sheryl Crow-style pop stuff she's becoming known for (thanks to Bon Jovi). Also on the bill are The Oddities and Chase the Horseman, two acts I'm not familiar with. Three performances on a Thursday night starting at 8 p.m.? Only at The Sydney. $10. 
* * *
Read Tim McMahan's blog daily at Lazy-i.com — an online music magazine that includes feature interviews, reviews and news. The focus is on the national indie music scene with a special emphasis on the best original bands in the Omaha area. Copyright © 2023 Tim McMahan. All rights reserved.