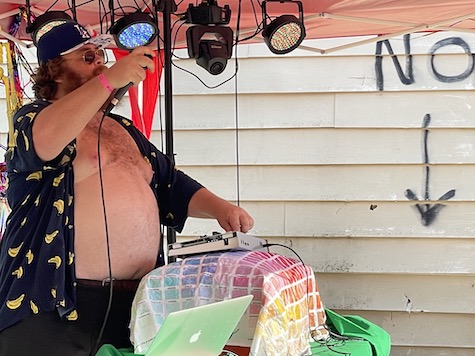 by Tim McMahan, Lazy-i.com
Yesterday it was announced that The Good Life's seminal 2004 album, titled Album of the Year, is being reissued as a gold-colored double-vinyl album by Saddle Creek Records. Here I thought all of Tim Kasher's projects were now released by the record label he runs with the Cursive bandmates — 15 Passenger Records. But it looks like Saddle Creek is still releasing The Good Life's catalog, and now, this fancy reissue. Why has Kasher kept this project with the Creek? I don't know, but for some reason, it feels endearing. Pre-order here.
Anyway, The Good Life is touring this new reissue for two weeks in August, which includes the Aug. 11 Outlandia Festival gig (which is specifically NOT AN ALBUM OF THE YEAR SHOW, according the Saddle Creek press release).
. 0 0 0 .
Here's another quick reminder about this afternoon's Maha Festival pop-up event in the park downtown featuring a performance by Little Brazil. It's free and starts at 5 p.m. down by the giant Kaneko head.
Also tonight, the electronic duo Princess (Alexis Gideon and Michael O'Neill) is performing at Low End at The Bemis – an amazing space to see live music, located at 724 So. 12th St. Princess is "is a queer interdisciplinary performing arts duo that uses music as the narrative basis for their conceptual, visually dynamic video operas." Opening for Princess is Nebraska's own Problems a.k.a. Darren Keen, which Bemis describes as a "one-person dance-punk project." Show starts at 8 p.m. and is free.
* * *
Read Tim McMahan's blog daily at Lazy-i.com — an online music magazine that includes feature interviews, reviews and news. The focus is on the national indie music scene with a special emphasis on the best original bands in the Omaha area. Copyright © 2023 Tim McMahan. All rights reserved.
No Comments »
No comments yet.
RSS feed for comments on this post. TrackBack URL
Leave a comment