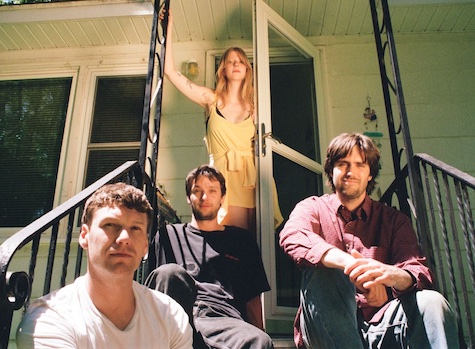 Slow Pulp play tonight at The Slowdown
by Tim McMahan,Lazy-i.com
It's a three-car pileup of shows tonight (we have another one come Monday). Add a 7 p.m. Husker game and BFF and things could get interesting. I'm not sure if "the Husker effect" is still a thing since the football program hasn't been successful for more than 20 years. We'll see tonight.
Top of the list is, of course, the homecoming of The Good Life. The band led by singer/songwriter Tim Kasher, with Roger Lewis, Ryan Fox and Stef Drootin, has been touring in support of the double-LP version of Album of the Year, rereleased by Saddle Creek Records. I thoroughly expected this show to sell out little ol' Reverb Lounge but tickets are still available. Opening the show at 8 p.m. is Chicago band Doom Flower, who has been compared to Mazzy Star, The Breeders, Cat Power and Portishead. $25.
Meanwhile, down at The Slowdown, Chicago by way of Madison, Wisconsin, band Slow Pulp headlines. Fronted by Emily Massey, the band has toured with Alex G, which is a good combination considering the similarity in styles. The band is on the road touring their just released album, Yard (2023, ANTI-), which Pitchfork gave a 7.5 rating and said its "clear-eyed sincerity, bubblegum hooks and mellow arrangements feel like a warm embrace." Classic indie rock, they're selling out shows around the country (but not here). Opening the show at 8 p.m. is New York duo Babehoven (Double Double Whammy Records). This is a main room show; tickets are $20.
Yesterday when I was buying my Lewsberg tickets I discovered that Grapefruit Records, 1125 Jackson Street in the Old Market, has another show happening tonight. Athens band Immaterial Possession is a four-piece led by Cooper Holmes and Madeline Polites whose music is "inspired by musical scales of the Greeks and Spanish," according to their bio at the Fire Records website. It just sounds like groovy indie rock with some psychedelia to me. Opening this show is Heavy Clippings at 8 p.m. sharp! $10.
Pro-tip regarding Grapefruit Records shows – they only post on Instagram, so give them a follow for their latest show and release info.
If that weren't enough, tonight is Benson First Friday. That means art shows up and down Maple Street, not the least of which is the show at our place, Ming Toy Gallery at 6066 Maple. Tonight's reception is for Josh & Shelby Audiss: Le Femme Fantastique. The opening runs from 6 to 9 p.m. Drop by, say hi, have beer or wine and buy some art! See you there.
Also as part of BFF, The Sydney in Benson is hosting Austin Texas 6-piece noise-rock band Neckbolt. The music sounds like their name. $10, 9 p.m.
Saturday's big show is at Pageturners where singer/songwriter Rosali returns. She opened for Destroyer back in April 2022 backed by David Nance, Jim Schroeder and Kevin Donahue. I'm told they'll be on board for Saturday's show as well. Her 2021 album, No Medium was one of my favorites from that year; her new music is being released on Merge Records. See her on a small stage while you can. Singer/songwriter Sean Pratt opens at 8 p.m. There's no cover but $10 donation is the least you can do.
Then it's onto Sunday for Lewsberg at Grapefruit Records. If you haven't discovered this amazing Rotterdam-based four-piece you're missing out. It's like listening to a dry European translation of The Feelies mixed with Lou Reed and Yo La Tengo and nothing could be more perfect.
I wrote Wednesday about how Grapefruit has upped its game in terms of being a venue. Find out for yourself. Also on the bill is a reunion of The Prairies – a band that consists of Dave Nance, Noah Sterba, Myke Marasco and Kevin Donahue – who will be playing songs off their first cassette tape. New band Western Haikus open at 7:15 p.m. This is a $12 show and advance tickets are available at Grapefruit Records, 1125 Jackson Street in the Old Market. 
And that's all I got. If I missed your show, put it in the comments section. Have a great weekend.
* * *
Read Tim McMahan's blog daily at Lazy-i.com — an online music magazine that includes feature interviews, reviews and news. The focus is on the national indie music scene with a special emphasis on the best original bands in the Omaha area. Copyright © 2023 Tim McMahan. All rights reserved.