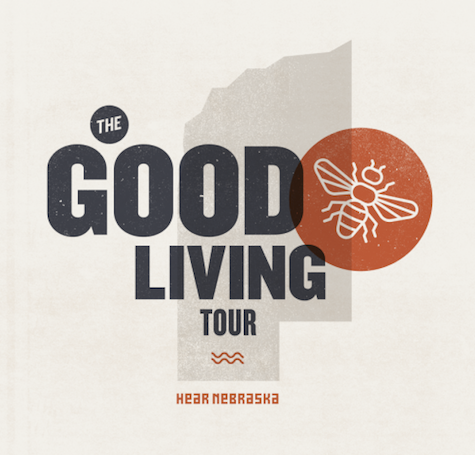 by Tim McMahan, Lazy-i.com
Yesterday, Hear Nebraska announced that The Good Life will be the headliner on the first three dates of this year's Good Living Tour. Finally the fine folks in Kearney, Grand Island and — yes, frickin' Ord, Nebraska — will get to experience Tim Kasher's dangerous hip-sways up-close-and-personal.
Sayeth The Kasher: "Hear Nebraska has charmed us with the reminder that Nebraska is far greater than just Omaha and Lincoln; I'm ecstatic to cruise along those highways less taken to revisit towns and cities I haven't been to in awhile." Or ever, Tim. Let's be honest. Well, maybe Ord.
Other big names on this year's Good Living Tour include See Through Dresses, Twinsmith, Clarence Tilton, Mezcal Brothers, Conchance and perennial Dwight Yoakam opening act Matt Whipkey, who will give Grant, Nebraska, population 1,137, an experience it'll never forget.
Full lineup and schedule is at goodlivingtour.com. The whole thing kicks off July 21 in Ord. Gas up and go.
The Good Living Tour has become Hear Nebraska's marquee event, a true outreach program that brings the music we take for granted to locations that rarely get a chance to see and hear live ORIGINAL music. There's a lot of good reasons behind the Good Living Tour; maybe the best is that these concerts could inspire folks to pick up an instrument and make some music of their own…
* * *
Austin's Walker Lukens sings rock songs with a swagger, a swoon, a velvet edge that cuts through a retro-fueled funk like Frankie Valli with a shiv. His music struts, it sneers as Walker sings his stories about life and love in the big city.
On his one-sheet, they say he's been compared to Nilsson (slightly off the mark), to Tom Waits (not sure why) and Pavement (a real head scratcher there). A closer comparison would be to Britt Daniel, which makes sense because lately Lukens has been working with Spoon's Jim Eno, who (were told) is producing an upcoming Lukens album called Tell It to the Judge. No doubt you'll be hearing song off that anticipated record when Lukens plays at The Slowdown Wednesday, April 20.
I threw down the Ten Questions gauntlet for Walker, and he crashed through it with great panache. Here's what he had to say:
1.   What is your favorite album?
Walker Lukens: If Tusk and Bone Machine were mashed up that would be my favorite record.
2.   What is your least favorite song?
"Piano Man" rivaled closely by "American Pie." Even when I'm in my car or at home, the opening notes of either song have me asking for the check.
3.   What do you enjoy most about being in a band?
Performing alone is like playing tennis against a wall. Who wants to watch someone play with themselves? Who can blame a singer for, after a while, letting the ball hit him in the head just to feel something different?
Playing with a group is like being on a rowing team. The song is the boat. The audience, the water. The band, the oarsmen. At best, I'm Washington standing at the bow in Scott Stapp pose, one foot on the monitor. Triumphant only by the grace of ye oarsmen. At worst, at least I don't have to pretend to like tennis.
4.   What do you hate about being in a band?
I hate letting down my band. I hate group texting.
5.   What is your favorite substance (legal or illegal)?
I'm not gonna tell you how much I like molly unless you ensure that my mom can't read this.
6. In what city or town do you love to perform?
Frankly, I like any town where more than 30 people come to the venue where I'm playing and stay through the set. City I like to play where the audiences are nonexistent? Memphis. City I like to play where the audiences are great but the city is subpar? Dallas. Awesome small town? Hot Springs, Ark.
7. What city or town did you have your worst gig (and why)?
I've played so many awful shows, you wouldn't believe. Once, I brought a full band to play a coffee shop in Boone, New Hampshire, that in addition to not disclosing before arriving that they didn't have a PA, didn't want any music that required a PA. Once, I played at a venue in Mississippi so poorly grounded that I got shocked every time I sang. The only remedy in the given timeframe was putting the sound guy's dirty sock onto the microphone.
8. How do you pay your bills?
I don't walk out of gigs like the ones above. I teach. I fill excel spreadsheets full of data for hourly pay. I hang posters. I accept all free lunch offers.
9. What one profession other than music would you like to attempt; what one profession would you absolutely hate to do?
I would love to be a travel writer. I would hate to own a music venue.
10. What are the stories you've heard about Omaha, Nebraska?
All of my favorite bands from high school were from Omaha, so in a weird way I feel like I know lots of stories about Omaha. (Is Omaha on a Wednesday night going to feel like Wet From Birth?)
Walker Lukens plays with Enemy Plans (headliner) and Fontenelle, Wednesday, April 20, at Slowdown Jr., 729 No. 14th St. Showtime is 8 p.m. Tickets are $8 Adv/$10 DOS. For more information, visit theslowdown.com
* * *

If you're like me you've probably been sitting around wondering to yourself, "Whatever happened to Buckethead?" Well, you can find out tonight when the guy with the bucket on his head returns to The Waiting Room. No opening act listed, just Buckethead all. night. long. Show starts at 8 p.m., $25.
* * *
Read Tim McMahan's blog daily at Lazy-i.com — an online music magazine that includes feature interviews, reviews and news. The focus is on the national indie music scene with a special emphasis on the best original bands in the Omaha area. Copyright © 2016 Tim McMahan. All rights reserved.
No Comments »
No comments yet.
RSS feed for comments on this post. TrackBack URL
Leave a comment