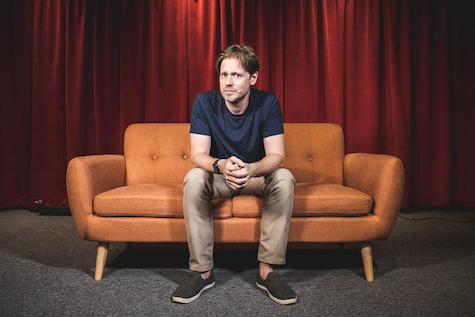 Tim Heidecker plays The Admiral tonight.
by Tim McMahan. Lazy-i.com
Other than yesterday's news about The Astro's delays in opening, it's been pretty quiet news-wise.
Yesterday, Omaha Performing Arts announced Liz Phair will be performing her debut album, 1993's Exile in Guyville, in its entirety in honor of the 30th anniversary of its release on Matador Records. It is definitely among my top-20 all-time favorite records.
However, the performance, Dec. 5, is happening at The Holland Performing Arts Center, which means it's a sit-down show. This, after O-pa opened the $100 million+ Steelhouse Omaha general admission standing-room rock palace. No doubt Phair and/or her people were involved in the venue choice, perhaps as a money grab, who knows. It's a shame. Holland is great, but not for rock concerts. Last time I saw Liz Phair was the show she played nearly 20 years ago (Dec. 8, 2005, to be exact) at Sokol Auditorium that commemorated 1% Production's 500th show.
Unlike her fall tour where Blondshell opened, this one has Kate Bollinger in the opening slot. Tickets likely go on sale Friday…
A few other shows worth mentioning recently announced:
If you missed The Good Life at Outlandia, good news – they're playing Reverb Lounge Oct. 6. This is their Album of the Year tour, so it'll be a special night, and considering the size of Reverb, will no doubt sell out despite the $29 ticket price (with fees).
– And "An Evening with The Church" has been announced for Oct. 9 at The Waiting Room. Always a good show. Tickets are $37 (with fees).
– Red-hot Omaha punk band BIB is the headliner for this year's Farnam Fest Oct. 14. The rest of the line-up includes Bad Self Portraits, David Nance Band, M34N STR33T and The Real Zebos. Quite a lineup for just $10.
– Not sure I mentioned this before but Speedy Ortiz is playing The Slowdown with Space Moth Nov. 17. Tickets are $20.48 (with fees).
– In case you missed it, that Sept. 20 Yo La Tengo show at The Waiting Room has been postposed due to drummer/vocalist Georgia Hubley's knee surgery (Hey, we're all getting older). No new date has been announce as of yet.
. 0 0 0 .
Tonight comedienne / rock star Tim Heidecker is performing at The Astro. The show will feature one set of comedy followed by a second set of Heidecker's original music. I've not heard his comedy act before, but I've listened to his recent album, High School (2022) and it's a big-melody throwback album that's kind of a cross between upbeat Wilco and Jimmy Buffett and has received a lot of love from Pitchfork and Paste.
This is a seated show, apparently, and the lowest priced tickets are around $50 (with fees). Starts at 8 p.m.
* * *
Read Tim McMahan's blog daily at Lazy-i.com — an online music magazine that includes feature interviews, reviews and news. The focus is on the national indie music scene with a special emphasis on the best original bands in the Omaha area. Copyright © 2023 Tim McMahan. All rights reserved.