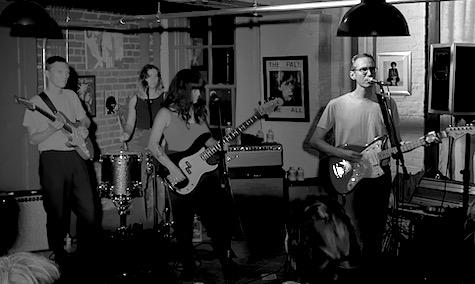 Lewsberg at Grapefruit Records, Oct. 8, 2023.
by Tim McMahan,Lazy-i.com
This weekend was a study in accessibility – three shows, three experiences, only two out of the three were successful.
Friday night's crowd for Slow Pulp at The Slowdown was picture perfect – the floor of the main room was nicely filled but not too crowded, you could get around easy but the place didn't feel empty, I was able to stand at my favorite stage-left perch throughout the set. It's the way I like it at Slowdown and probably a bummer for the club owners, who would prefer a jam-packed evening for obvious reasons.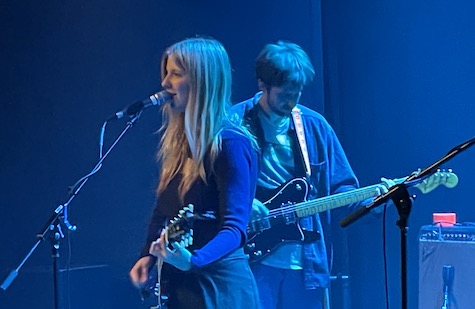 Slow Pulp at The Slowdown, Oct. 6, 2023.
Slow Pulp came on at around 9 and were terrific. The remarkable thing about the band is how lead singer Emily Massey's flat, unadorned, unfussy vocals perfectly compliment the bands' impeccable playing. On the surface, Slow Pulp is nothing new or groundbreaking — they play somewhat run-of-the-mill indie rock that would fit comfortably alongside other modern-day female-led indie projects like Alvvays or Momma. Their strength lies in creating a sound that feels comfortable and assured — a fine, even style of songwriting I could listen to all night.
At time's Massey's voice was as naked and pure as a senior-year talent show, but it's that unassuming, unadorned style that made it so appealing, powered by a super-tight band who looked relaxed and assured. Her voice only got stronger as the night wore on, peaking during a great rendition of "Broadview," a favorite off their most recent album, Yard, where Massey pulled out a harmonica and pushed the song into Neil Young Harvest territory.
Saturday night was Rosali at Pageturners but, alas, it was not to be. When I arrived at around 9 Sean Pratt was on stage with Megan Siebe and every table was filled. Folks were standing in the back in the aisle that leads to the parking lot and I wondered where I would be able to stand and watch the show. The answer: nowhere. It was like the old days at The 49'r, another bar where if you didn't get there early you were screwed because the tables took up all the room right up to where the band played and there was nowhere to go where you wouldn't be in someone's way, especially if you're 6-foot-2.
So with no place to stand, I turned around and left and learned a lesson that the trick (or necessity) to seeing a show at Pageturners is to get there early, before the performances start.
Finally Sunday night it was down to Grapefruit Records for an in-store concert by Lewsberg. The set-up was as Simon had described it – the store had wheeled the album racks into the hallway, creating a big-ish space for people to stand in front of the the small elevated stage. It was a comfortable crowd of around 50 with a few seated on the floor to the left of the stage like grade schoolers at storytime.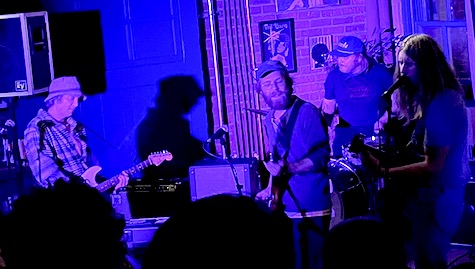 The Prairies at Grapefruit Records, Oct. 8, 2023.
One of the openers, The Prairies, consisted of Dave Nance, Noah Sterba, Myke Marasco and Kevin Donahue all having the time of their lives playing old songs from an old cassette recorded years ago – a cassette I would now like to own a copy of. Each took turns rotating between instruments ("Everyone plays drums in The Prairies") for these short, sharp, fun songs that heralded back to the good old days of Nebraska post-punk.
The best way to describe Lewsberg's set was how my wife described it, saying she felt like she was in a cool, secret club somewhere in Europe.  To me, it felt like seeing Talking Heads during their 1977 tour at someone's house party in the Lower East Side.
The Rotterdam four-piece played songs off their amazing new album, Out and About (2023, 12XU), as well as older favorites like "Cold Light of Day," from 2020's In This House. Their simple arrangements, chiming guitars and frontman Arie van Vliet's dry, close-to-spoken-word Lou Reed-style delivery gets them compared to Velvet Underground, while their stripped down rhythms recall The Feelies, but for me there was a trance-like quality I haven't heard since The New Year/Bedhead. That's a lot of comparisons for a band that has created something wholly originally and difficult to pin down – quiet yet intense, the only thing more intense was guitarist Michiel Klein's tight, skull-like stare throughout the set as he focused on the repeated rhythm parts or opened up on solos. It was good to see him smile after the set.
II can't wait to see another show at Grapefruit Records. If this is what it means for indie to go back underground, I'm all for it.
. 0 0 0 .
It's another Monday night in Omaha with three marquee shows happening at the same time, maybe because these touring bands just finished playing bigger cities over the weekend. Whatever the reason, there are choices to me made.
In the case of The Church, who is playing tonight at The Waiting Room, Omaha is actually the kick-off city for the next leg of their U.S. tour. They're out on the road supporting new album, Hypnogogue, a strong collection that recalls their mid-'80s heyday when they released Starfish and their biggest hit, "Under the Milky Way." This is "an evening with The Church," which means no openers. $35, 8 p.m.
Meanwhile, around the corner at Reverb Lounge, electronic post-punk band Model/Actriz headlines. They remind me a shit-ton of The Soft Moon – same sort of bracing bounce electronic rhythms mixed with static noise and bass, like Nine Inch Nails meets The Rapture. This could be a really cool show. Conjunto Primitivo opens at 8 p.m. $15.
Meanwhile, The Slowdown is hosting the long-sold-out Ethel Cain show. Everyone's wondering how The Slowdown got this gig, considering Cain has sold out much larger rooms. I'm told she specifically sought out the club on this tour — a tiny room considering she has nearly 2 million monthly listeners on Spotify and one of her most popular tracks is called "A House in Nebraska" – a stark and depressing song about crippling lost love. Midwife opens at 8 p.m.
* * *
Read Tim McMahan's blog daily at Lazy-i.com — an online music magazine that includes feature interviews, reviews and news. The focus is on the national indie music scene with a special emphasis on the best original bands in the Omaha area. Copyright © 2023 Tim McMahan. All rights reserved.