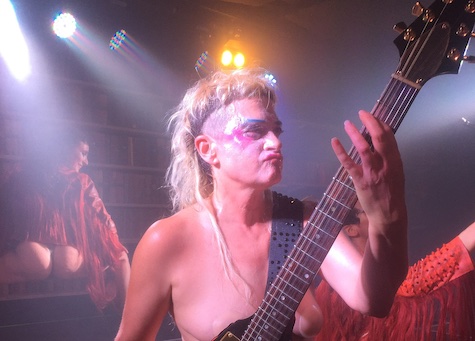 by Tim McMahan, Lazy-i.com
On a throw-back Thursday it's probably a good idea to look back on some recent history. It was on this day in 2020 that our "esteemed" governor announced that bars and lounges could reopen, effectively ending the COVID-19 pandemic.
Just kidding. Ricketts' June 1 proclamation, while making it OK for bars to reopen, meant little to music venues because of the onerous and necessary restrictions placed on venues, as outlined in this Lazy-i article from May 23, 2020. From that article:
(The Slowdown's) Jason Kulbel says bars can open just like restaurants with a 50 percent capacity, though all must be seated at tables and can only move around when going to the restroom or ordering food/drinks.

The Slowdown would fall under the "Venues" category — that means 25 percent capacity, with 6-foot spacing between groups. "Groups" and "tables" are interchangeable terms for argument's sake. So for a 600-capacity rock show at The Slowdown, the current capacity allowed by COVID rules is 150. Again, groups have to be separated by six feet, which will have to be defined somehow by the venue with tape on the floors or something.

Where it gets real tricky: bathroom capacity is three at a time. Expect 6-foot distancing while waiting in line for your booze. And when the show is over, there has to be staggered exiting, which will be just plain weird.

And remember, everyone is wearing masks the entire time. How is the venue going to enforce all these rules?

"All of the above equals 300% of the staff with a max potential of 25% of the business, for us AND the band," Jason said.

Of course maybe the biggest challenge is just getting people comfortable going to shows amidst all the above regulations and general fear of COVID. Like I said yesterday, I would definitely go to a show under these conditions (especially if I could sit at a table and get table service). But based on comments I've heard online and elsewhere, I'm the minority.

He said Slowdown isn't planning to reopen June 1. Look for an opening later in the month of June at the earliest.
Jason would push that date back almost a year, instead hosting their first show in April 2021, whereas The Waiting Room's first big show was Crash Test Dummies in March 2021. If you look on the sidewalk outside The Slowdown, you can still see the symbols spray-painted on the sidewalk marking where people should stand in line to remain safely separated.
It was a f___ing weird time, folks, but like that spray painted sidewalk, it's already starting to fade from memory, which is why we have to remind ourselves every once in a while what we went through. The lucky among us were only inconvenienced; the not-so-lucky died. 
Happy Thursday!
Tonight at Reverb Lounge, Mississippi electronic noise band MSPAINT headlines. As described in Stereogum, the four-piece "developed a surging, seismic, but curiously meditative future-punk style that sounds like a glitch storm avalanche swallowing a SimCity 2000 skyline. Their instrumental tones are modeled on the warbling, gated fuzz of fax machines and the dial-up sounds of their 1990s childhoods."
Lots of yell-vocals and synth tones. Borders on hardcore. Could be a moshpit (but I doubt it). Opening is Omaha's own synth-master, Jeff in Leather, and XID. $12, 8 p.m. 
Also tonight…. I generally don't write about Lincoln shows, but one of my faves is playing at The Royal Grove — electro-clash-dance maven Peaches a.k.a. Merrill Nisker, whose 2009 album, I Feel Cream (XL Records) is still a regular in my running mix. Opening is Nebraska beat-master PROBLEMS a.k.a. Darren Keen, who I'm told may not be a one-man act tonight. 8 p.m., $30, definitely worth the drive.
* * *
Read Tim McMahan's blog daily at Lazy-i.com — an online music magazine that includes feature interviews, reviews and news. The focus is on the national indie music scene with a special emphasis on the best original bands in the Omaha area. Copyright © 2023 Tim McMahan. All rights reserved.
No Comments »
No comments yet.
RSS feed for comments on this post. TrackBack URL
Leave a comment