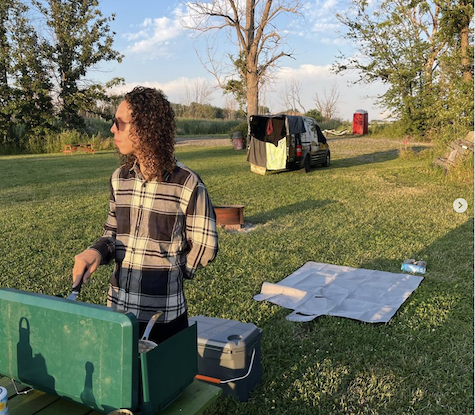 Reddenhollow plays in O'Leaver's basement Saturday night…
by Tim McMahan, Lazy-i.com
No touring indie shows this weekend. Same old story.  So what else is happening in Omaha this weekend? 
Saturday night there's a subterranean show at fabulous O'Leaver's. For whatever reason, O'Leaver's is hosting the performers in their basement, I guess in the area that used to be (and maybe still is) a rentable karaoke space. I haven't been down there in years. 
The featured artist for Live in O'Leaver's Basement is the quiet acoustic folk of Asheville, North Carolina singer/songwriter Reddenhollow, a.k.a. Taylor Moses. Vocally, he reminds me of a bit of Will Oldham, though his music isn't as bleak. Also on the bill is our very own Megan Siebe, hot of touring with Cursive. Sean Pratt opens at 8 p.m. $10.  This should be a laid-back show, which I guess is why they put it in the basement, away from the usual O'Leaver's chaos…
And as mentioned yesterday, this weekend sees two farewell shows for Darren Keen, who is moving to Chicago. Tonight, his latest project, PROBLEMS, plays at Duffy's in Lincoln with Pagan Athletes and Benjamin Gear X. 6 p.m., $10. Then Sunday night (July 16), PROBLEMS plays at The Sydney in Benson with Turquoise, Cultplay and Oceanz. $10, 5 p.m. Come say goodbye to a Nebraska icon!
That's all I got. If I missed your show, put it in the comments section. Have a great weekend.
* * *
Read Tim McMahan's blog daily at Lazy-i.com — an online music magazine that includes feature interviews, reviews and news. The focus is on the national indie music scene with a special emphasis on the best original bands in the Omaha area. Copyright © 2023 Tim McMahan. All rights reserved.