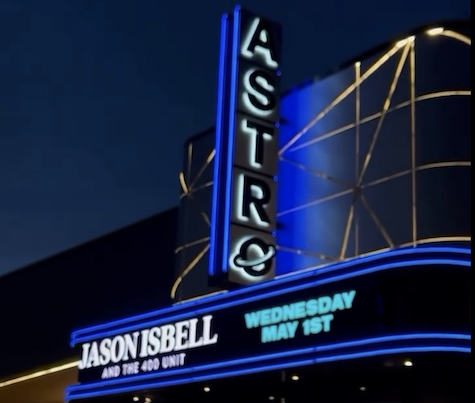 by Tim McMahan, Lazy-i.com
The long-awaited grand opening of the new Astro Theater music venue in La Vista finally arrives tonight featuring the craptacular Blue October followed by a performance tomorrow night from 67-year-old country rocker Chris Isaak. The Astro was supposed to open weeks ago; the opening was pushed back due to "construction delays." I'd love to see the inside of this facility, but judging by the kind of acts being booked there, it seems unlikely, at least in the foreseeable future.
Of the 16 shows booked through next September at the theater and its connected amphitheater, only geriatric Porno for Pyros comes vaguely close to the kind of band that I cover here at Lazy-i. No surprise there, based on this interview with booker Mammoth Productions.
So now we watch as The Astro competes head-to-head with Steelhouse Omaha for the exact same audience. The venues have similar booking philosophies and capacities, though Astro has that big outdoor space. Steelhouse, booked exclusively by the evil Live Nation, would seem to have an edge, but judging by what they've done since opening this past May, maybe not. They hosted Bush last night, but have only two shows scheduled for December, and two shows for January. No doubt they'd blame the time of year for the lack of bookings, but come on, it's a 100+ million dollar investment that is sitting mostly unused.
Like I said in this column in the now-defunct Reader in August, while The Astro and Steelhouse no doubt will pull in all kinds of pop, country, metal and comedy acts, these huge facilities serve no purpose for the kind of young indie bands that made Omaha famous 20 years ago — bands that draw only a few hundred rather than a few thousand concertgoers.
. O O O .
OK, so what else is going on this weekend?
Top of the list is Merge Recording artist Hiss Golden Messenger headlining at The Waiting Room tonight. The North Carolina twang-infused folk-rock band is led by singer/songwriter MC Taylor. Kind of reminds me of Wilco; if you're into that sort of folk-Americana music, this is for you. Adeem the Artist opens at 8 p.m. $31.
It'll be crowded in Benson tonight as it's Benson First Friday, which means original local art will be hung at openings being held up and down Maple Street. Among them is the December Invitational Opening at Ming Toy Gallery, 6066 Maple Street (right next to Au Courant). Among the artists being shown are Josh Audiss, Shelby Audiss, Nash Bellows, Jon Bleicher, Mari Dailey, Mark Davis, Ashley DeVrieze, Lori Elliott-Bartle, GBM artists. Amy Haney. Judy Haney. Jamie Heidvogel, Vickie E. Hughes, Josephine Langbehn, Jeanne C. Langan, Chad Leahy, Emily McQueen, John Munoz, Gabriella Quiroz, Jill Rizzo, Brock Stillmunks, John Stillmunks, Anna Stoysich, Howard Thiel, Terrol Thompson, Michael Trenhaile and Grace Weihs. Whew!
The show runs from 6 to 9 p.m. Come on by and say hi! More info here.
And…it's also another Bandcamp Friday, which means now is a best time to buy and download those albums you've been wanting to buy and download, as Bandcamp will waive their fees today and give it all to the artists!
Tomorrow night (Saturday) Uh Oh hosts the album release show for their year-long Cicada Songs project at fabulous O'Leaver's. Joining them is White Wolf T-shirt and The Content. It's a free show so why not swing by Bandcamp right now and buy a copy of their record? Bands start at 9 p.m.
Also Saturday night, local alt rockers Names Without Numbers celebrates the 20th anniversary of Running Marathons/Chasing Ambulances at Reverb Lounge, with Beachmont and Better in Eleven. $13, 8 p.m.
And that's all I got. If I missed your show, put it in the comments section. Have a great weekend!
* * *
Read Tim McMahan's blog daily at Lazy-i.com — an online music magazine that includes feature interviews, reviews and news. The focus is on the national indie music scene with a special emphasis on the best original bands in the Omaha area. Copyright © 2023 Tim McMahan. All rights reserved.