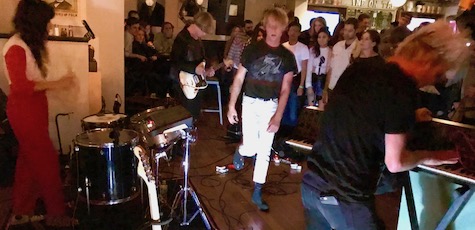 by Tim McMahan, Lazy-i.com
New releases and singles were announced over the past few days by a handful of touring indie bands who have included Omaha on their upcoming tours. Let us celebrate each.
On top of the list is Sextile, the LA-based electro / No Wave trio will be playing at The Waiting Room Oct. 19. The last time I saw these folks they were playing a set at Blackstone Meatball during a Farnam Fest back in 2017. Their new album, Push, is out Sept. 15 on Sacred Bones Records, and is, as the kids say, fire. 
Phoenix act Diners a.k.a. Blue Broderick, is playing Reverb Lounge Sept. 6. Their new album, Domino, comes out Aug. 18 on Bar/None Records. Here's the first single:
Speedy Ortiz is back and always seems to remember poor little Omaha when she's putting together her tour stops, and this time 'round is no exception. Frontwoman Sadie Dupuis and her posse will be playing The Slowdown with Spacemoth Nov. 17. Yesterday they dropped the first single from their next album, Rabbit Rabbit, which comes out Sept. 1 on Wax Nine Records. Check it:
Durham, NC's Hiss Golden Messenger is the project of M.C. Taylor. The singer/songwriter's style leans on Americana and Country. Their new album, Jump for Joy, comes out on Merge Aug. 25, and the band is slated to play The Waiting Room Dec. 1. 
Finally, it's old news for sure but Wilco is returning to Omaha, playing at the new Astro Theater Oct. 23. The band announced their new album, Cousin, will drop Sept. 29 on dBpm Records. Check out the first single, "Evicted," that dropped yesterday.
* * *
Read Tim McMahan's blog daily at Lazy-i.com — an online music magazine that includes feature interviews, reviews and news. The focus is on the national indie music scene with a special emphasis on the best original bands in the Omaha area. Copyright © 2023 Tim McMahan. All rights reserved.
No Comments »
No comments yet.
RSS feed for comments on this post. TrackBack URL
Leave a comment