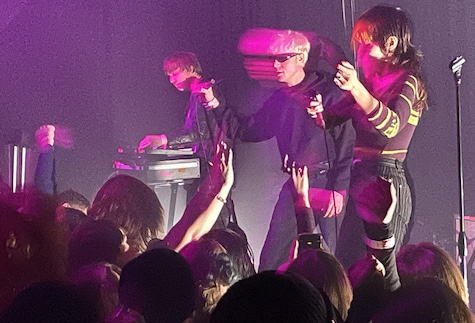 Sextile at The Waiting Room, Oct. 19, 2023.
by Tim McMahan, Lazy-i.com
I'll start with Sextile at The Waiting Room and go backward from there.
The band had made it known they were going on at 10:15 last night, and I arrived shortly before that, catching only the last song by the opening act, someone who's music I had determined I didn't need to hear after listening to a number of his tracks prior to the show. Some folks expected Sextile to be a big draw, others were like me, skeptical but hopeful that Omaha would show up — and more Omaha showed up than I expected – a crowd of maybe 150, a fine mix of ages and genders drawn together by a goth sense of fashion and a shared love for this style of post-punk post-New Wave synth-powered dance music.
The trio bounded onto the velvet-black stage to the blump-blump-blump beat of "Contortion," off their new album, Push. Or at least I think that was the name of the song. I would be lying if I told you I knew the words to any Sextile song or their names for that matter, other than the ones fans consider their "hits" – "Disco," "New York," "No Fun," "Current Affair," etc., all of which were played at some point last night to a crowd of sometimes-jumping sometimes-undulating fans, many of which looked ready for Halloween.
In addition to having an infectiously driving beat, Sextile songs sport abrasive counter-melodies played mostly on synths but sometimes on electric guitar, and vocals that consist mostly of either frontman Brady Keehn or frontwoman Melissa Scaduto barking out words in a staccato yelp tightly in synch with the proceedings. At their best, even the most dead pile of human flesh can't help but move to their coal-black rhythms.
So much of the music was preprogrammed that it was hard to say if and when any of Sextile were actually playing anything, other than punching the track number from a play list, though it sure looked like guitarist Cameron Michel was actually shredding that guitar, as did Scaduto. More often, the performance consisted of a bleach-blond-sunglassed Keehn bounding about the stage, spitting out lyrics while showing off his contorted dance moves, glowing/blasting on-off-on in the blinding strobes. T'was a shame the place wasn't packed, as (like that Model/Actriz show a week ago) I can only imagine how this performance would feel at, say, a sold-out Terminal 5 in Brooklyn.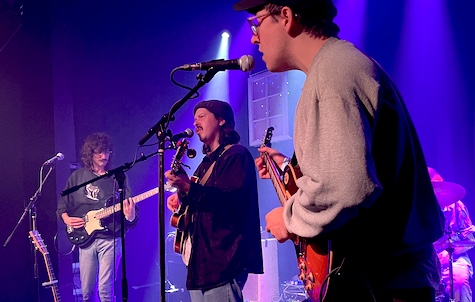 Another Michael at Reverb Lounge, Oct. 19, 2023.
Going backwards earlier the evening… There was a wholly different kind of audience at Reverb Lounge last night for Ratboys, a well-attended (but not sold out) show. These folks clearly were not ready for Halloween. Opening band Another Michael is a Philly four-piece that plays Americana-inflected indie rock, though that's not really a fair description. It's clearly a singer/songwriter act powered by frontman Michael Doherty backed by a rock-solid band anchored with precision and grace by a drummer who's name I don't know and can't find and in this day-and-age don't want to make any assumptions.
Doherty's songwriting style would be as successful in the '70s as it is here in the '20s (and upon reading that sentence, I feel very old indeed). The only band I would compare them to is early '90s-era The Silos. Doherty has a high, sweet voice and style similar to Walter Salas-Humara, though instead of singing about the Southwest, Another Michael's songs are rooted in the frozen Northeast. Really gorgeous stuff and a good opener for Ratboys.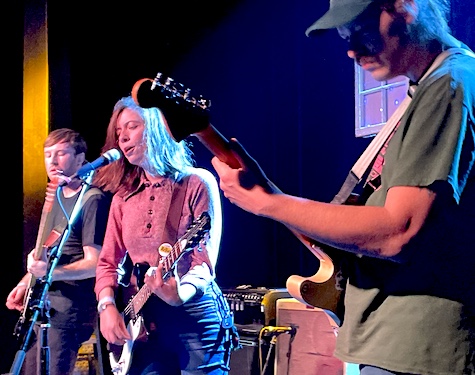 Ratboys at Reverb Lounge, Oct. 19, 2023.
A hot ticket thanks to the success of their latest album, the Chris Walla produced The Window, and for touring with bands like Wilco and Guster (who they opened for here in Omaha a year ago), the band has a poise and style that points to much bigger stages than Reverb's. Singer/guitarist Julia Steiner is like watching Broadcast News-era Holly Hunter lead a modern indie band that has a lot in common with acts like Hop Along (the closest comparison vocally to Steiner). Her voice can be at times sound earnest and personal while at other times almost overtly cute, just as their songs can waver between straightforward indie rock and Wilco-esque Americana.
Steiner also has good between-song-tuning-my-guitar snappy patter, telling stories about "the wooden man" they saw at a Luv's somewhere in Iowa (Hate for Iowa was a theme throughout the night by both bands who wrongly think Nebraskans hates Iowa for some reason, which couldn't be further from the truth, but who am I to correct their regional prejudices?). There is no doubt this band is going to be huge, and the fact that this show didn't sell out tiny Reverb only adds to the continued mystery as to why touring indie shows are drawing so disappointingly in our market.
. 0 0 0 .
Onto the weekend, and an O'Leaver's weekend at that, though there is one big touring indie show worth mentioning.
First though, like a blast from the past, there are back-to-back nights of live music this weekend at fabulous O'Leaver's. Tonight, elusive local indie band BB Sledge opens for two bands I've never heard of — Saltwater Sanctuary and The Bedrock. Will I finally see BB Sledge after countless efforts to see them in the past were for naught? Maybe. This show is $10 and starts at 9:30.
Tomorrow night (Saturday) at O'Leaver's see the return of Dance Me Pregnant, who we haven't heard from since, what, 2012? It's the classic Dance Me Pregnant line-up with Chris Machmuller, Johnny Vredenburg, Corey Broman and Jeff Ankenbauer. Some of these folks I literally haven't seen in a decade. If that weren't enough to get you to O'Leaver's, the night's bill also includes The Flamboyant Gods (I'm Drinking This Records) and In Tongues (Robert Little, Jason Ludwick and Boz Hicks). And it's free. Expect a crush mob. Good thing it's nice out so you can step out onto their gorgeous patio between sets. Starts at 9 p.m., just like old times.
The other big show Saturday night is indie darling Samia at The Waiting Room. The band is riding a wave of popularity thanks to the sing-along song "Honey" off the album of the same name released earlier this year on Grand Jury Records. Was a time you couldn't turn on Sirius XMU without hearing the track (how does that happen, by the way?). Also on the bill is the cute Nashville indie duo Venus & the Flytraps. 8 p.m., $25.
And that's all I got. If I missed your show, put it in the comments section. Have a great weekend!
* * *
Read Tim McMahan's blog daily at Lazy-i.com — an online music magazine that includes feature interviews, reviews and news. The focus is on the national indie music scene with a special emphasis on the best original bands in the Omaha area. Copyright © 2023 Tim McMahan. All rights reserved.