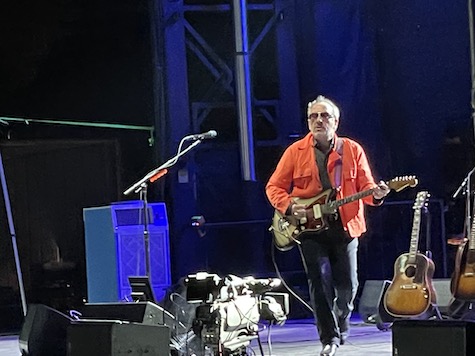 Elvis Costello at Memorial Park Aug. 29, 2021. EC returns to Omaha tonight at Steelhouse Omaha.
by Tim McMahan, Lazy-i.com
Let's start with what's happening here tonight…
Tonight at Steelhouse Omaha, Elvis Costello and the Imposters with special guest Charlie Sexton will play a "seated" show. Based on the set list for Sunday night's show in Phoenix, expect a greatest hits set. I suspect this will be much more lively then what we got when he played at Memorial Park back in 2021 (although I don't see "Uncomplicated" on that Phoenix list – a personal fave we got last time). Nick Lowe backed by Los Straitjackets opens at 7:30 p.m. Ticketmaster shows there are still tickets available for $74.50.
Also tonight, everyone's favorite tractor punk band, Wagon Blasters, opens for Las Vegas rockabilly act The Delta Bombers at Maloney's in Council Bluffs, 162 W. Broadway, a newish venue I've yet to visit. Gary Dean and the crew kick things off at 8 p.m. $17.
And everyone's favorite helmeted rock 'n' roll astronaut, Bob Log III, brings his one-man-band guitar hi-jinx to Reverb Lounge tonight. No opener listed. 8 p.m., $15.
. 0 0 0 .
Following up on yesterday's close-but-no-cigar indie tour post, a couple other tours were announced yesterday that you'll have to head out of town to catch:
Indie singer/songwriter Faye Webster announced her North American fall headlining tour. Closest pass to Omaha:
Oct 29 – Chicago, IL – Vic Theatre
Oct 30 – Minneapolis, MN – First Avenue
Geese, who played a sort of half-ass half set at last year's Maha Festival, announced their 2023 tour yesterday. Closest pass to Omaha:
October 12 – Chicago, IL @ Lincoln Hall
October 13 – Milwaukee, WI @ Back Room at Colectivo
October 14 – Minneapolis, MN @ 7th St Entry
October 16 – Denver, CO @ Larimer Lounge
Considering that Maha set, I think they owe us one.
And that Blondshell show I'm headed to next month at 7th St. Entry has sold out. No matter, Blondshell just announced another tour with Liz Phair, which will again, miss us. The closest pass to Omaha:
11/17 – Palace Theater – Minneapolis, MN
11/18 – Chicago Theater – Chicago, IL
Get your tickets while you can.
* * *
Read Tim McMahan's blog daily at Lazy-i.com — an online music magazine that includes feature interviews, reviews and news. The focus is on the national indie music scene with a special emphasis on the best original bands in the Omaha area. Copyright © 2023 Tim McMahan. All rights reserved.