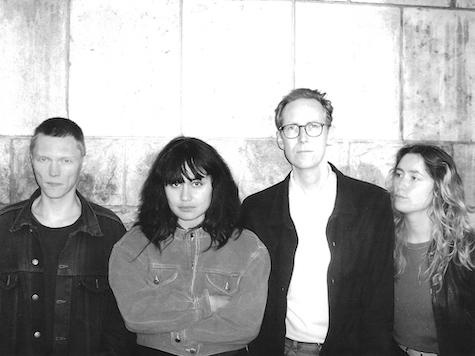 Lewsberg's tour takes them to Lawrence, Kansas, in October.
by Tim McMahan, Lazy-i.com
A number of tour announcements are hitting the wire today, and the question isn't whether these bands are coming to Omaha, but rather which city you're willing to travel to.
For example, one of my favorite bands, Lewsberg (12XU Records), announced their U.S. Tour this morning. Should I go to Chicago or Lawrence, Kansas, to see them? I'm opting for Lawrence, where they're playing a tiny 100-capacity school house Oct. 7 (they're also playing Gonerfest!).
Then there's Slowdive, who this morning announced their U.S. Tour. I'm not a huge Slowdive fan but I know a lot of people who are. Will those folks be headed to Denver, St. Paul or Chicago to see them?
Early next month I'm headed to Minneapolis to see Blondshell at 7th St. Entry. And so on.
It's not a bash on Omaha (though it kind of is), it's just a reality we're in as so many touring indie bands continue to route around our fair city. The addition of grand new music venues like Steelhouse Omaha and The Astro are of little to no help as their focus is booking acts that will sell between 2,500 and 3,000 tickets — which in this market means bands whose heydays were 20, 30 or 40 years ago. That's where the money is. (More on The Astro in my column in The Reader next month). 
A band like Slowdive, which is playing two nights at Webster Hall in NYC (very likely sell outs), would be a nice fit for Omaha's larger venues, but how would they draw here? It's a risk for the promoter, no dobut. We also have plenty of smaller venues perfect for smaller indie tours like Lewsberg. But no one's booking them, or the bands no longer have Omaha on their radar like they did a decade or so ago when we were in the center of the indie music world.
Traveling to shows is nothing new, but more than ever, it's become a necessity if you're an indie music fan. Not such a big deal if you've got the money and time to travel — heck, it's even an escape. But if you're in college without the means to get to shows, it can be a real bummer. At least they've got Maha to look forward to…
Anyway, since Lazy-i's mission is to cover indie music, in addition to covering local and national tours coming through Omaha, I'll announce noteworthy indie tours coming to nearby cities and info about the venues (when I have it).
For example: Slowdive tour's nearest pass to Omaha:
Tue. Oct. 3 – Chicago, IL @ Riviera Theatre
Wed. Oct. 4 – St. Paul, MN @ Palace Theatre
Lewsberg's nearest pass to Omaha:
10/7 – Lawrence KS, The White Schoolhouse
10/9 – Chicago, Sleeping Village w/ CB Radio Gorgeous
More to come…
* * *
Read Tim McMahan's blog daily at Lazy-i.com — an online music magazine that includes feature interviews, reviews and news. The focus is on the national indie music scene with a special emphasis on the best original bands in the Omaha area. Copyright © 2023 Tim McMahan. All rights reserved.
No Comments »
No comments yet.
RSS feed for comments on this post. TrackBack URL
Leave a comment