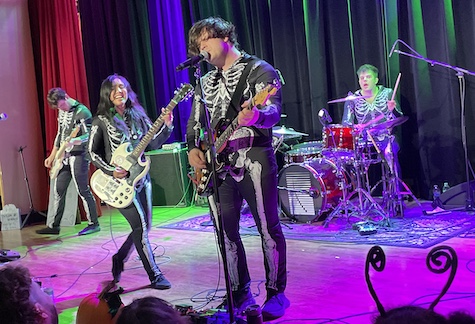 See Through Dresses at The Benson Theatre, Oct. 27, 2023.
by Tim McMahan, Lazy-i.com
The Benson Theatre, located right in the middle of our drunken little townlet, could really be a cool stage for rock shows. The room is, indeed, quite beautiful, well designed, with rows of seating and plenty of room in front of the stage to stand. It's the best of both worlds, or could be. In my mind I could imagine all those Undertow artists' shows, like the recent Mark Eitzel show that took place downtown in a brew pub drinking room, performed on the Benson Theatre stage, a room just the right size for tours from past stars who now find themselves nomadically playing people's living rooms.
Alas, one assumes the operating costs associated with this "non-profit" theater makes such concerts impossible, which is a shame because there's woefully little programming taking place in the state-of-the-art facility in the heart of the city.
But I digress…
Friday night the theater hosted a fundraiser for Omaha Girls Rock, another Omaha non-profit, this one designed to provide direction both musically and ethically to young women from our community. The sold-out crowd consisted mostly of parents of these young rock stars on hand to give moral support, sitting or standing in groups while young kids ran around in costumes or wiggled on the "dance floor" in front of the stage.
Omaha is currently suffering from a lack of young, up-and-coming indie bands. And as few new or touring Omaha indie bands as there are, there are even fewer bands fronted by women, which is ironic because today's national indie music scene is dominated by women artists. No need to list them, if you know than you know. Omaha Girls Rock, while not established to fix this problem, could certainly provide an effective remedy.
In times past when I've seen OGR bands play at fundraisers I've approached it like just another supportive parent (though I'm not), understanding the girls were only just learning their instruments. Not so Friday night. The two bands I saw were actually pretty good. Nothing Rhymes with Orange was cute and showed promise, but UN-T.I.L. actually could stand on its own as a functioning post-punk power trio. No idea who's in the band, but they had some chops, especially on the last two numbers that had more intricate compositions. And if you doubt me, you can find out for yourself as UN-T.I.L. will be opening for Speedy Ortiz at The Slowdown Nov. 17.
They were followed by the return of See Through Dresses, who haven't played out in a few years. Drummer Nate Van Fleet even made a special trip to Omaha from his new home in LA just for the show. The entire band dressed in matching skeleton costumes a la Phoebe Bridgers' band, which made it a sort of double costume.
While the band sounded as good as ever playing music that's a combination of shoegaze and Dinosaur Jr., the vocals by Matthew Carroll and Sara Bertuldo sounded naked on stage, pulled right out front of everything instead of being properly mixed with the rest of the instruments. I've never heard these two so loud and clear, like auctioneers fronting DIIV. Still, despite the poor mix, it was great seeing them on stage again.
In an era in Omaha when we've got ginormous new music venues popping up everywhere, here's a small, well-made smaller alternative venue going mostly unused. It would be a shame if more bands weren't booked there.
* * *
Read Tim McMahan's blog daily at Lazy-i.com — an online music magazine that includes feature interviews, reviews and news. The focus is on the national indie music scene with a special emphasis on the best original bands in the Omaha area. Copyright © 2023 Tim McMahan. All rights reserved.