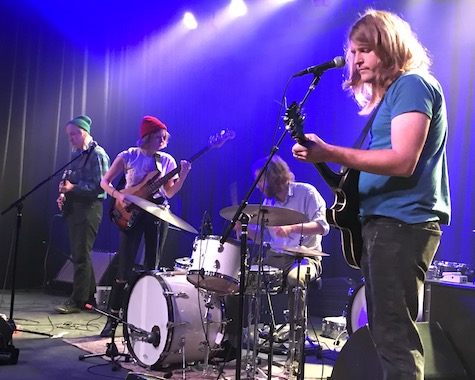 by Tim McMahan, Lazy-i.com
You'll have a chance to celebrate the New Year early with two shows happening tonight — and check it out: They're timed so you can catch both.
Tonight at the Waiting Room Oquoa headlines a three-band bill that includes David Nance & Mowed Sound in the opening slot. Mesonjixx also is on the bill. Not sure what Oquoa has been up to lately recording-wise, though they continue playing live. As for Nance, he's always releasing something new. On Nov. 30 he quietly released Mowed Sound Vol. 1 on Bandcamp (and cassette), a collection of live cuts from shows in Philly and LA, which includes the new funkified version of "Credit Line." Show starts at 9 p.m., $10.
Earlier in the evening, hep-daddies The Mezcal Brothers are bringing their brand of rockabilly to The B. Bar (4330 Leavenworth, right next to Barrett's). No price listed for this one. This super-early show starts at 5:30 and should wrap up by 8:30, giving you plenty of time to get to The Waiting Room for Nance.
There are no indie shows slated for the remainder of the weekend. As for New Year's Eve, well, what's the old saying about it being for amateurs? See you in 2023, with the release of the annual Predictions column…
* * *
Read Tim McMahan's blog daily at Lazy-i.com — an online music magazine that includes feature interviews, reviews and news. The focus is on the national indie music scene with a special emphasis on the best original bands in the Omaha area. Copyright © 2022 Tim McMahan. All rights reserved.