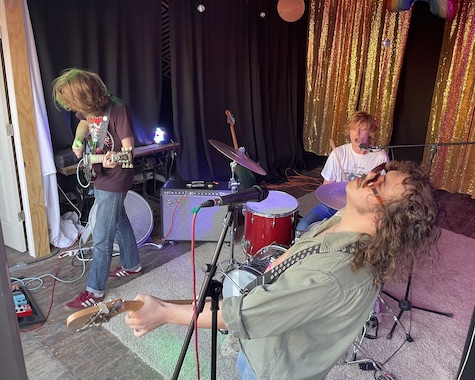 by Tim McMahan, Lazy-i.com
Tonight's Cat Piss show at Reverb Lounge – easily the biggest show of the weekend – is also a vinyl release show for the band's latest album, Cat Piss Rides Again, which was actually released way back in June, a time that seems like forever ago, when we all wore T-shirts outside and complained about the humidity. You won't be doing that tonight.
That it takes more than six months to get vinyl pressed should be no surprise to anyone who's followed the Great Post-Covid Vinyl Shortage. As I said back in June at the original album release show: "Cat Piss is releasing their debut album, Cat Piss Rides Again, on Boise, Idaho label Mishap Records, and the two singles I've heard are like an homage to the '90s Nebraska punk sound (i.e., bands like Mousetrap, Cellophane Ceiling and Sideshow come to mind). Cat Piss is Casey Plucinski on guitar/vocals, Nathan Wolf on drums/vocals and Sam Lipsett on bass/vocals. The new album was recorded by Ben Brodin and mastered by Carl Saff. Get ready for this one."
And if you were going to buy it, there is no better way to do it than at tonight's show, but if you can't make it for some reason, today is also Bandcamp Friday, which means Bandcamp will wave its fees and send all the money from sales directly to the bands.
Tonight's opening act, Bad Bad Men, yesterday released a brand-spanking new song on Bandcamp. The bruising, gut-punch called "Wrist Action" is but a taste of what's to come from the power-trio of Wolf/Siebken/Hug, but oh, what a taste it is. Recorded this past October at ARC Studio by Adam Robert, the track will have you slapping on the pink handcuffs and succumbing to a necessary rock interrogation. Buy it today at "The Right Price" of one crisp dollar.
This one starts at 9 and is $10. Be there or be square.
. 0 0 0 .
And it's also Benson First Friday! Tonight's a special BFF because my wife's new art gallery, Ming Toy Gallery, opens at 6066 Maple (right next door to my favorite restaurant, Au Courant). The gallery is named in honor of my grandparents' restaurant, Ming Toy Cafe, which once resided at 45th and Military Ave. It's a group show that features non-traditional artists, and in some ways, a soft opening, as the first solo art show (by Denise Levy) is next month. Still, stop by and check out the new place, have a beer and say hello.
. 0 0 0 .
Also tonight, right down the street at The Waiting Room, Satchel Grande headlines a show with Josh Hoyer and the Soul Colossal. $10, 8 p.m.
. 0 0 0 .
Finally, hardcore band Nowhere headlines a show Saturday night at The Sydney with Hussies and Local Ponzi Scheme. 9 p.m., $10.
And that's all I got. If I missed your show, put it in the comments section. Have a great weekend!
* * *
Read Tim McMahan's blog daily at Lazy-i.com — an online music magazine that includes feature interviews, reviews and news. The focus is on the national indie music scene with a special emphasis on the best original bands in the Omaha area. Copyright © 2023 Tim McMahan. All rights reserved.