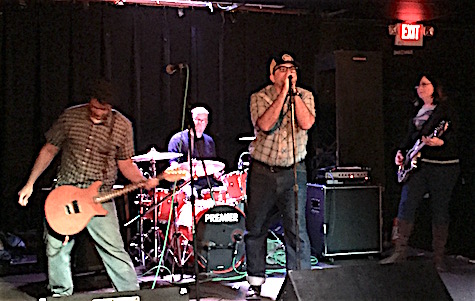 by Tim McMahan, Lazy-i.com
It's a Speed! Nebraska Friday night takeover in more ways than one tonight.
First, tonight at Grapefruit Records, 1125 Jackson St., our favorite local record label, Speed! Nebraska, is celebrating the release of In Frontier We Trust, a CD compilation of all the great Frontier Trust singles (four 45s-worth). It's a project that Frontier Trust frontman Gary Dean Davis said was fun putting together. "We actually used a 45 as the master for the Highway Miles EP," Gary said. Mastered by genius engineer Doug Van Sloun with cover art by Chris Harding Thornton, the CD will be like a time machine that takes you back to Omaha/Lincoln circa the mid-'90s when Frontier Trust invented tractor-punk and sat at the forefront of Nebraska's first golden age of indie rock.
And here's the best part – everyone who attends tonight's CD release show gets a free copy of the CD. How can you beat that?
Well, Gary Dean Davis' latest band, Wagon Blasters, is headlining the show, which means we'll get treated to a couple Frontier Trust classics in the "Half Trust" style with Bill Thornton on guitar. Opening the show at 8 p.m. is Filter Kings frontman Gerald Lee, Jr. Entry is $10 at the door.
Grapefruit Records is a fun room for a show, and Gary says Simon is even building a drum riser for the occasion.
But that's not the only Speed! Nebraska show happening tonight. Across town in Benson at Reverb Lounge, Lincoln power-punk trio Domestica headlines a rare (these days) Omaha show. Domestica's previous incarnation, Mercy Rule, released singles on the Speed! Nebraska label, and often were Frontier Trust show mates at rock shows in the mid-'90s. Ah, those were the days… 
Opening for Domestica is Mike Saklar's The Sun-less Trio; Minne Lussa owns the middle slot. 9 p.m. start time, $8.
If you're crafty (and reckless) there's a chance you could double-dip and catch both shows.
The other red-hot show this weekend is Saddle Creek Records band The Rural Alberta Advantage headlining at Slowdown Jr. Sunday night. The band is on the road supporting The Rise EP, released last spring, which marked the return of founding member, keyboardist Amy Cole. Singer/songwriter Georgia Harmer opens at 8 pm. $22.
And that's all I got. If I missed your show, put it in the comments section. Have a great weekend.
* * *
Read Tim McMahan's blog daily at Lazy-i.com — an online music magazine that includes feature interviews, reviews and news. The focus is on the national indie music scene with a special emphasis on the best original bands in the Omaha area. Copyright © 2023 Tim McMahan. All rights reserved.
No Comments »
No comments yet.
RSS feed for comments on this post. TrackBack URL
Leave a comment