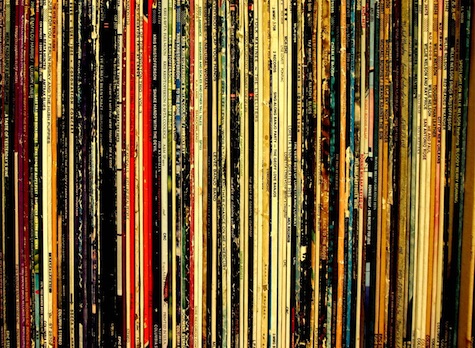 by Tim McMahan, Lazy-i.com
I spent all day yesterday cooped up in my house watching bad pre-Super Bowl television and playing Trivia Crack on my phone. That's the extent of my weekend. It wasn't a total loss. I did score some very fine original artwork created by Brian Tait, which I spent the daylight hours hanging. Tait's the guy that runs Midtown Art Supply. He also makes great art, including the large, giant possum painting I'm looking at over my shoulder right now.
But what does any of this have to do with music? Maybe this:
Last Friday AV Club published this bit of click-bait called "Vinyl is just a fad, record executives say." The piece compiled quotes from RCA Records president Tom Corson and Universal Music Distribution general manager Candace Berry pooh-poohing the recent jump in vinyl sales (up 52 percent last year, while digital sales dropped 12.5 percent).
Among the executives interviewed for the story was Saddle Creek Records exec Robb Nansel. Says Nansel about vinyl in the story, "It's always going to be a niche…Not to be negative about it, but I feel like it's going to peak, if it hasn't already."
Turns out the AV Club story is merely a rehash of this more detailed Rolling Stone article, and the AV Club writer left out the rest of the Nansel's quote, which was:  "From a label perspective, it's expensive. You've got to ship it. There are environmental concerns. But we love vinyl. It's our preferred format."
Robb's "niche" comment sounded eerily like one of my 2015 predictions, which went something like: "The vinyl craze will slow, this after a year that saw 49 percent increase in U.S. vinyl sales vs. 2013 numbers. The growth will level off as younger music fans refuse to embrace a medium they see as an interesting but inconvenient gimmick that costs twice as much (or more) than what they pay to download the same album (if they pay at all)."
Both my comments and Nansel's raised the eyebrow of Homer's general manager Mike Fratt. Fratt said (on his Facebook timeline) that the AV Club article caused him to spit out his drink in laughter. In response to my 2015 prediction, Fratt emailed me saying. "Vinyl is still on the way up and we don't anticipate a peak until 2017 or 2018. 16 to 24 year olds make up 22 percent of the vinyl buying public. This means they will remain invested in the format for another 10 years until they start getting married and have babies which can curtail music/purchases/discretionary items."
Fratt went on: "Right now vinyl pressing plants cannot meet demand so as more come on line this year sales will continue to increase. Also, less than 100 indie stores report sales to Soundscan, so actual sales are WAY under-represented. Soundscan reports 6 million; (the) real number is over 10 million. This holiday season we sold more turntables than the last three years combined and reports are there is no stock to replenish stores as they sold so well everywhere this holiday season. I believe three or more vinyl titles sold over 100,000 units in 2014. Pretty amazing."
Amazing indeed. Only time will tell who's right in predicting the future of vinyl. The only thing I have on my side of the argument is personal experience. The few 20-somethings I've spoken to who aren't already vinyl collectors find the idea of acquiring a turntable amusing. They love listening to music, not collecting it. And believe me, there is a distinction.
As a 40-something guy, I grew up with vinyl, switched to CDs, bought a click-wheel iPod and now subscribe to Spotify. That said, when I buy music (and not rent it), I almost exclusively buy vinyl, and then download the album via a digital key that comes in the package. I doubt I'm alone. But then again, I've always been a collector, as evidenced by the bookshelves filled with comic books and albums, drawers filled with CDs and the local art hanging on my walls (like those amazing Taits). For many, collecting vinyl is like a fetishist activity — just ask the dudes standing in line outside of Homer's on Record Store Day.
Where do I listen to the vast majority of my music? On my iPhone, while I'm running, shopping, working. I rarely listen to the vinyl copies of new albums more than a few times because I'm never sitting where my turntable is located very long (unless I'm writing, in which case, I don't have music on at all). I think that could be the case for most people, especially those who work in an office or go to school. If you want to listen to music during the day, you probably have to take it with you. It's that necessity that will limit vinyl to a collectors' market.
I hope I'm wrong; I hope Fratt is right. I'd like nothing more than to see vinyl sales continue to grow, and believe me Nansel would like to see that, too.
* * *
Speaking of music portability, Yahoo! Tech shoots holes in Neil Young's PonoPlayer High Definition music device, saying it lost in a blind taste test vs. a regular ol' iPhone. A summary is here at 9-to-5 Mac, that says: "For the blind trial, Pogue assembled 15 people aged 17 to 55, asking them to flip between three songs on the iPhone and PonoPlayer, each song in the device's best resolution. In separate tests using 'standard Apple earbuds' and Sony MDR-7506 headphones, more people preferred the iPhone to 'Pono' or 'neither.'"
Interesting. Reminds me of all the articles comparing vinyl to digital. In the end, can anyone but those with the most expensive audio equipment tell a difference in sound quality?
* * *
Read Tim McMahan's blog daily at Lazy-i.com — an online music magazine that includes feature interviews, reviews and news. The focus is on the national indie music scene with a special emphasis on the best original bands in the Omaha area. Copyright © 2015 Tim McMahan. All rights reserved.
No Comments »
No comments yet.
RSS feed for comments on this post. TrackBack URL
Leave a comment