by Tim McMahan, Lazy-i.com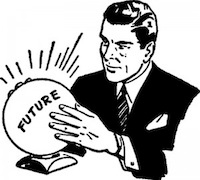 It's a new year, and as such, time for my annual Visions of 2015 Music Predictions. You can read the article in first issue of the newly redesigned Reader monthly magazine, available at all the usual drop locations. It's also available at the newly designed reader.com, right here. Or, heck, just read the darn thing below…
20 Music Visions for 2015

Imagine, if you will, the uncanny ability to see into the future, to know what's going to happen before it happens. It's an awesome talent that comes with great responsibility, kind of like being Spider-Man. But before we gaze into my crystal Fender Squire (it's cheap, but it works), let's score last year's predictions for 2014:

2014 Prediction: Look for MTV to emerge as a primary launching pad for premiering new music and online video.

Reality: MTV hasn't emerged as anything other than being a lousy cable station.

2014 Prediction: Streaming services such as Spotify and Pandora will enter the concert promotion business, creating packaged "caravan"-type concert tours.

Reality: Pandora partnered with Lexus for a Southern California concert series as well as StubHub for its "Next Stage" concert series. Pandora selected the series' artists based on their partner's target market and information from its listener base, including age, gender and music preferences.

2014 Prediction: Target, Walmart, Best Buy and even Kmart, will reinstall record bins as the vinyl renaissance continues.

Reality: Target calls vinyl a "throwback gift" and features more than 10,000 new and oldies vinyl releases. Walmart also supposedly sells vinyl, but I'll never know for sure because I won't step foot in one.

2014 Prediction: With the advent of computers integrated into apparel— i.e. "wearables" — almost every concert you attend will be recorded and uploaded to YouTube.

Reality: Well, not every concert is online yet, but many of the major ones are (and the quality of video is horrendous). Rare is the rock show where I don't see someone in the crowd holding up an iPhone "videoing" an entire song.

2014 Prediction: Pussy Riot's release from a Russian gulag will land them in America, where they'll create a breakthrough punk album.

Reality: Earlier this month, The Guardian reported that the band is in the studio with members of Le Tigre and may record an album with JD Samson and Johanna Fateman.

2014 Prediction: Upon its release next year, a song off a new Cursive double-live album will make the band the next Cheap Trick or Peter Frampton.

Reality: Despite multiple nights of live recording, Cursive has yet to release a single live track. What a bunch of teases.

2014 Prediction: A one-time-only all-day outdoor concert will rival the Maha Music Festival in attendance.

Reality: This did not happen (Thanks for nothing, John).

2014 Prediction: Speaking of Maha, the festival will land multiple headliners this year and will finally reach attendance that exceeds Stinson Park's capacity, forcing organizers to look for a larger venue in 2015.

Reality: Maha had its biggest crowds ever, but the one-day festival still hasn't outgrown its Aksarben location. The next Maha Festival has already been announced for Aug. 15, 2015, at Stinson Park.

2014 Prediction: In an effort to keep CD prices from eroding, more artists will follow Beyonce's lead and release albums exclusively on iTunes.

Reality: U2 blew up Beyonce's model by giving away its latest album exclusively on iTunes. Though it was the largest record distro in history, the blow-back was so severe we'll never see a repeat.

2014 Prediction: More artists and independent labels will say "I've had enough" and follow Thom Yorke's and Nigel Godrich's lead and pull their music from Spotify.

Reality: Taylor Swift made headlines by announcing her new album, 1989, would not be available on Spotify. Coincidentally, 1989 is the only new-music album released in 2014 to go platinum.

2014 Prediction: Bands we'll be talking about this time next year: Radiohead, U2. The Faint, Conor Oberst, Cursive, Ted Stevens, Beck, Prince, Animal Collective, Digital Leather, Frank Ocean, Grizzly Bear, Future Islands, Sleigh Bells, Spoon, Death Cab for Cutie, Little Brazil, Tame Impala, Local Natives, Modest Mouse and Icky Blossoms.

Reality: Almost all released or announced upcoming releases.

2014 Prediction: Bands we won't be talking about: Miley, Springsteen, Flaming Lips, Bieber, Chris Brown, Ritual Device, Monae, Haim, Kanye, Katy Perry and Skrillex

Reality: No one saw that Ritual Device reunion coming. As for the rest, Miley who?

2014 Prediction: All Bob Dylan's problems will be solved once and for all.

Reality: Bob is still Blowin' in the Wind…

2014 Prediction: New Lincoln venues, including Vega, will put a squeeze on Omaha music-goers, forcing them to "make the drive" more often to see their favorite touring indie bands.

Reality: Pinnacle got McCartney, and Vega is getting Mark Kozelek Jan. 26, but there hasn't exactly been a stampede to Lincoln.

2014 Prediction: One local online music-focused website will shut down forever in 2014 (and no, it won't be Lazy-i).

Reality: They're all still kicking (including SLAM Omaha).

2014 Prediction: Believe it or not, a local radio station will integrate a College Music Journal-style playlist into its regular programming

Reality: Don't stop believing.

2014 Prediction: Yet another new live music venue will open in Benson, but this one will focus on either jazz, blues or country music.

Reality: Reverb opened in Benson this summer, and while it hasn't distinguished itself for any one genre, Jim Johnson, who co-owns the place, said he'd like to book more country bands on Reverb's stage.

2014 Prediction: An indie music legend with Nebraska roots who moved away from the Midwest more than a decade ago will return to The Good Life state and open a recording studio.

Reality: Matthew Sweet is now living somewhere in Omaha, where he's built a home studio.

2014 Prediction: Look for another local singer/songwriter to break out nationally in 2014, but without the help of Saddle Creek Records.

Reality: There were big pushes by Kris Lager and Josh Hoyer, but no breakout, yet.

2014 Prediction: Next year Conor Oberst really will appear the Saturday Night Live stage, but not as a music performer…Oberst, the actor!

Reality: Um, no.

Final score 11 for 20. Now onto 2015:

2015 Prediction: An all-out Spotify rebellion will break out next year, and it won't be coming from independent labels who are getting gutted by the service, but rather (ironically) from big name stars who make the most money off Spotify. And you'll have Taylor Swift to thank.

2015 Prediction: The vinyl craze will slow, this after a year that saw 49 percent increase in U.S. vinyl sales vs. 2013 numbers. The growth will level off as younger music fans refuse to embrace a medium they see as an interesting but inconvenient gimmick that costs twice as much (or more) than what they pay to download the same album (if they pay at all).

2015 Prediction: But before that happens, more record labels will be forced to follow record label Fat Possoms' lead and open their own vinyl pressing plants due to the shortage of vinyl manufacturing options. Watch smaller labels ban together to acquire their own presses.

2015 Prediction: BTW, CDs are still the second-best selling format (vinyl only accounts for about 4% of total music sales). Record labels will discover a way to add new value to CDs, either by offering better audio quality (hi-res audio), lower prices or new packaging options.

2015 Prediction: Oculus Rift virtual reality technology is a revolution for the video gamers, providing an experience so real, it's scary (I know, I've tried it). Glomming on to this new tech, a rock band will produce the first-ever Oculus Rift music video. You'll be able to view it via OR booths at independent record stores.

2015 Prediction: The soundtrack of the Guardians of the Galaxy movie made history as the first soundtrack album consisting entirely of previously released songs to top the Billboard 200 chart. Watch as record labels try to replicate that success by releasing new collections consisting entirely of chart-topping oldies tied to popular television programs or films. Who cares if all the songs are already available on Spotify?

2015 Prediction: The '90s indie/alt-band reunions will continue next year. One reunited band will release a new recording that will break into the mainstream in a big way. Will it be Sonic Youth, Buffalo Tom, Jane's Addiction, Galaxy 500, The Grifters, R.E.M. or Commander Venus

2015 Prediction: Bands we'll be talking about this time next year: Modest Mouse, Hop Along, U2, Desaparecidos, Low, Cursive, Prince, Savages, Lloyd Cole, The Mynabirds, The Replacements, The xx, The Rolling Stones, Tom Wait, For Against, PJ Harvey, Icky Blossoms.

2015 Prediction: Bands we won't be talking about: Iggy Azalea, Madonna, Metallica, Bright Eyes, Sun Kil Moon, The War on Drugs, Swans, FKA Twigs, Kanye, Led Zeppelin.

2015 Prediction: The Rolling Stones will be down one Stone.

2015 Prediction: Omaha's bar-club bubble will burst as one or more local music venue/clubs will change hands and stop offering live music. You'll be shocked.

2015 Prediction: Maha Music Festival organizers' wish will finally come true and they'll book "that band" that they've always wanted to play the festival. Hey, didn't I make this prediction for 2012? Proof that persistence pays off.

2015 Predication: We'll experience the first wave of rock 'n' roll "retirements" as a number of long-time well-paid singers/songwriters/musicians/bands will announce they're getting out of the music business because they can no longer make a living at it, thanks to declining album sales and streaming services.

2015 Prediction: Along those same lines, look for a Kickstarter campaign from a former Billboard chart-topping act (and I'm not talking about Creed). You will be appalled.

2015 Prediction: While mainstream pop music becomes more sugar sweet, indie music will become more miserable. Depressing, dark acts like Pharmakon, Swans, Perfume Genius and Sun Kil Moon will be joined by even more miserable acts that will counter-balance pop's bright banality.

2015 Prediction: With the continued popularity of music contest shows like The Voice and American Idol, it was only a matter of time until a network decided to revive American Bandstand. The format will focus on live performances by chart toppers (rather than teens dancing), and none of us will recognize Dick Clark's replacement.

2015 Prediction: Conversely, thanks to its airing on Palladia, someone will create an American version of Later… with Jools Holland — a fantastic music-based TV show that airs on BBC that presents live performances by a mix of cool artists playing across a circle of stages.

2015 Prediction: Look for the launch of yet another new FM radio station in the Omaha market that plays CMJ-style indie. I know, I know, but it's bound to happen.

2015 Prediction: As the industry continues to crumble, more historically huge bands will sign deals with mid-level indie labels. Along those same lines, you'll see more formerly "large" bands and performers self-releasing material as they turn their back on labels altogether.

2015 Prediction: No local or Saddle Creek artist will make it to the SNL stage next year (duh), but one (other than a Conor band) will make it on national TV, and (in classic Buzzfeed fashion) when you see who it is it'll blow your mind.

First published in The Reader, Dec. 31, 2014. Copyright © 2014 Tim McMahan. All rights reserved.
* * *
What better way to celebrate the new year than a rock show? Consider this the last reunion show of a big reunion season. Steve Barolomei a.k.a. Mal Madrigal plays tonight at fabulous O'Leaver's. According to the Facebook invite, it's a mystery which of "his comrades" will join him, but it could be Ben Brodin, Ryan Fox, John Kotchian, Dan McCarthy and/or Mike Saklar. You'll just have to show up to find out. Opening is the talented Anna McClellan $5, 9:30 p.m.
Happy New Year.
* * *
Read Tim McMahan's blog daily at Lazy-i.com — an online music magazine that includes feature interviews, reviews and news. The focus is on the national indie music scene with a special emphasis on the best original bands in the Omaha area. Copyright © 2015 Tim McMahan. All rights reserved.
1 Comment »
Your assertion about the GotG Soundtrack seems dubious. What about Forest Gump? Pulp Fiction? Dazed and Confused? The Big Chill? As I recall, all were top-selling soundtracks consisting wholly of previously released music.

As for the Commander Venus reunion, I keep telling you that's never gonna happen, but what the hell. It's a chance for a band that no one ever really liked to get mentioned once a year in a music blog, so I'll consider that a win, heheh.

Comment by M Bowen — January 4, 2015 @ 6:32 am
RSS feed for comments on this post. TrackBack URL
Leave a comment