by Tim McMahan, Lazy-i.com
Expect another crazy night at fabulous O'Leaver's as the club hosts The Good Life tonight playing new music from their upcoming album. In fact, the band enters the studio tomorrow to begin recording, so tonight's show is sort of like the date leading to conception. Opening is the incomparable James Maakestad (Gus & Call, McCarthy Trenching). $5, 9:30 p.m.
O'Leaver's is on a roll these days. Craig D, who books the club, shared their January schedule. Here are some of the highlights:
1/9- Clear the Day, The Sapwoods, Foxholes, Mitch Gettman
1/16- Bloodcow with Pro-Magnum and Nightbird
1/22- TIT and Worried Mothers
1/23- Handsome as Sin w/ The Toppings
1/24- Derby Birds, Shane Lamson (Brigadiers), All Young Girls are Machine Guns
1/30- Feel Tight with Christopher the Conquered
1/31- Lightning Bug w/ Fontenelle and Low Long Signal
Of particular note is the TIT show Jan. 22. TIT is Shawn Foree of Digital Leather and Bobby Hussy of The Hussy. Their debut album came out last month on FDH Records and is more of the electronic mayhem we've come to expect from these two. That Jan. 16 Bloodcow show should also be off the hook (as the kids used to say)…
* * *
I've been trying to find an online resource for upcoming releases. Not much out there, but I did stumble onto Consequences of Sound's "50 Most Anticipated Albums of 2015″ list, and found (sort of) what I was looking for, which is the more interesting indie releases in the coming months. Among them, new ones by Belle and Sebastian (1/20, Matador); The Decemberists (1/20, Capitol); Sleater-Kinney (1/20, Sub Pop); Ft. John Misty (2/10, Sub Pop); Will Butler (3/10, Merge) and Twin Shadow (3/17, Warners).
There are a handful of other interesting mentions on the list (The Wrens will have a new album out?), but as a whole, if this is all there is, we could be seeing the doldrums of the last quarter of '14 continuing.
* * *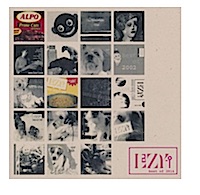 OK folks, today is the LAST DAY to enter into the drawing to get a copy of the coveted Lazy-i Best of 2014 Compilation CD — the 20th Anniversary edition of this timeless classic. The collection includes tracks by Angel Olsen, Alvvays, Run the Jewels, Brad Hoshaw and the Seven Deadies, The Lupines, Twin Peaks, Spoon, Strand of Oaks, Protomartyr and ton more, including a wild-card surprise track from the 1994 Best of Cassette (each CD has a different surprise track). The full track listing is here. Entering is super-easy: To enter, either: 1. Send an email with your mailing address to tim.mcmahan@gmail.com, or 2) Write a comment on one of my Lazy-i related posts in Facebook, or 3, Retweet a Lazy-i tweet. Hurry, contest deadline is MIDNIGHT TONIGHT!
* * *
Read Tim McMahan's blog daily at Lazy-i.com — an online music magazine that includes feature interviews, reviews and news. The focus is on the national indie music scene with a special emphasis on the best original bands in the Omaha area. Copyright © 2015 Tim McMahan. All rights reserved.
No Comments »
No comments yet.
RSS feed for comments on this post. TrackBack URL
Leave a comment